Giới thiệu về loa hi-fi Quad Lite Surround
If you enjoy visual entertainment from TV and movies you may dream of experiencing the thrills, excitement and impact of the cinema experience in your home. However, you probably find intolerable the idea of giving up room space to the big speaker
Quad engineers have managed to package expansive sound into an elegant, sleek and small set of speakers that recreate movie drama and action with amazing realism. What is even more important is that they have accomplished this feat with no compromise to the legendary Quad approach to accuracy.
Design
Profiled Cabinet
Quad L-ite Plus features a new, profiled cabinet not only for a beautiful aspect to its proportions but also to enhance the sonic character.
The smooth, curved surfaces ensure excellent dispersion of sound around the speaker, maintaining a superb power distribution throughout the room. The result is a seamless sound 'picture' which marries perfectly to on-screen action and expands it into three dimensions.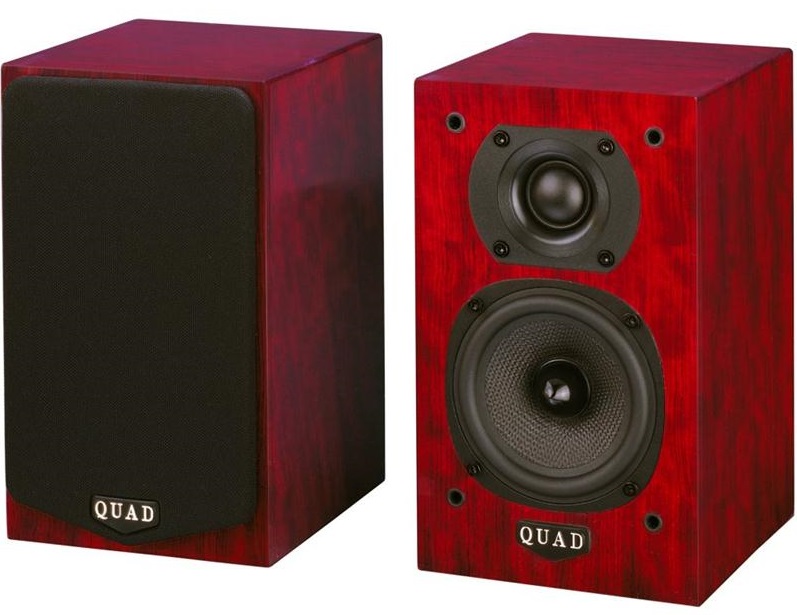 Loa hi-fi Quad Lite Surround chính hãng
Technology
Driver Integration
The L-ite Plus long throw driver is manufactured using Quad's proprietary bi-directional Kevlar weave, made from a self-damping resin-impregnated fibre form of the material that is then lattice woven to create the appropriate stiffness, strength and weight and mounted on a butyl rubber surround. A profile phase plug smooths the response through crossover region with the tweeter.
The tweeter uses a precision-engineered waveguide to integrate the midrange and treble in a totally coherent way. Acoustically the drive units are combined by an advanced phase-linear crossover utilizing low distortion inductors and high clarity polypropylene capacitors in the signal path.
This creates a truly holographic sonic image - essential for believable music and movie soundtrack reproduction
Technology
LF-66 Subwoofer Included
The L-ite Plus Satellites and Centre channel speakers are complemented by the Quad LF-66 subwoofer, an outstandingly powerful sub in a compact package. Inside the glossy cabinet, matching the satellite speakers, are twin mechanically opposed duo tri-lam drivers which utilise dual wound voice coils and triple laminated cones to convert the power from a 450W peak power amplifier into thumpingly realistic low frequency transients.
In addition, Quad engineers have achieved a smooth upper bass response that is ideal for integrating with the L-ite Plus Satellites ensuring low distortion and colouration.
Thông số kỹ thuật của loa hi-fi Quad Lite Surround
| | |
| --- | --- |
| Package Includes Full 5.1 Speaker System including 4 x surround, 1 x centre and 1 x active subwoofer | |
| Satellite | |
| Woofer | 100mm Woven Kevlar |
| Tweeter | 25mm Fabric dobe |
| Sensitivity | 85dB |
| Reccomended Amplifier Power | 20 - 100W |
| Peak SPL | 100 dB |
| Nominal Impedance | 8 Ohms |
| Frequency Response | 100Hz - 20kHz |
| Dimensions | (H x W x D) 248 x 141 x 184mm |
| Net Weight | 6.32kg |
| Centre | |
| Woofer | 2 x 100mm Woven Kevlar |
| Tweeter | 25mm Fabric Dome |
| Sensitivity | 86dB |
| Reccomended Amplifier Power | 20 - 100W |
| Peak SPL | 100dB |
| Nominal Impedance | 8 Ohms |
| Frequency Response | 100Hz - 20kHz |
| Dimensions | (H x W x D) 155 x 382 x 184mm |
| Net Weight | 5.56kg |
| LF-66 Subwoofer | |
| Woofer | 2 x 150mm long-throw drivers |
| Power (RMS / Peak) | 200W / 400W |
| Peak SPL | 115dB |
| Frequency Response | 35Hz - 120Hz |
| Crossover Frequency | 150Hz - 305Hz |
| Special Features Phase Inversion, Variable filter, High Pass Output, Low Pass Filter, Auto On/Off | |
| Dimensions | 308 x 237 x 241mm |
| Net Weight | 8.96kg |
>>>Có thể bạn quan tâm thêm dòng âm thanh hi-fi: Quad Lite Center hàng chính hãng 100%