Những điểm nổi bật của dàn loa hi-fi YAMAHA DVX-S60 Dàn 5.1
The Yamaha DVX-S60 home theater system has everything you look for in a high performance setup.
Showcasing a sleek, silver finish, the 5.1-channel home theater receiver features a built-in DVD player for the ultimate in versatility. The five surround speakers are complemented with a powered subwoofer. Look to Overstock.com for huge savings on all your home theater needs.
Features
STYLISH H/T RECEIVER+DVD PLAYER COMBO WITH SIX SPEAKER SYSTEM
Yamaha's new DVX-S60 features a stylish one-piece home theater receiver that also incorporates a versatile DVD player. The system includes six speakers including a center speaker and subwoofer.
dàn loa hi-fi YAMAHA DVX-S60 Dàn 5.1 chính hãng
VERSATILE ELECTRONICS CONSOLE
The versatile electronic heart of the DVX-S60 is a silver home theater receiver/processor providing 30 watts of power to the five main, center and rear speakers, as well as an additional 35W to the subwoofer. The system features excellent sound quality, 6 Surround Programs, 4 Music Programs, Dolby Digital and DTS decoding, Progressive Scan output, CD-R/CD-RW/MP3 playback, AM/FM tuner, and powerful Quad Bass subwoofer. In addition, the single chassis incorporates a sophisticated DVD player.
MULTI-FEATURED DVD PLAYER
The DVX-S60 incorporates a performance built in DVD player capable of playing DVD-Video, CDs, including CD-R and CD-RW discs, as well as CDs with MP3 tracks, making it a complete entertainment center.
MULTIPLE INPUTS AND OUTPUTS
The DVX-S60 has several inputs and outputs. Two conventional video inputs - each with an S-Video connector - a composite video output, 2 S-Video outputs, and 1 component video output provide for a variety of video components. An optical and a coaxial digital input as well as a digital output and an analog input/output pair provide capacity for audio-only components. Includes 5.1-channel speaker terminals (2 x main, center, 2 rear and subwoofer). The speaker terminals and cables are color coded for easy connection and set-up.
DOLBY DIGITAL AND DIGITAL DTS SURROUND
Once you hear true surround sound, you'll wonder why you ever settled for stereo. Listening to Dolby Digital or DTS movies through six speakers in surround sound makes the sound come alive as never before. There are six Surround Programs to choose from, as well as four Music Programs (Rock, Jazz, Pop and Classics).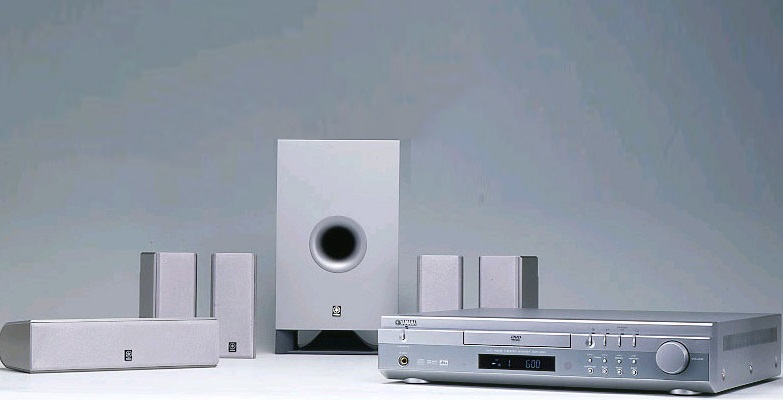 COMPLETE HOME THEATER SPEAKER COMPLEMENT
The DVX-S60 comes complete with six speakers (for 5.1 channel sound) that are attractive and compact, yet deliver exceptional clarity and surprising power. The two main, two rear and center speakers are extremely efficient and perfectly balanced. The subwoofer features the same QD-Bass design used by Yamaha's top-line models, for powerful bass response. All speakers are magnetically shielded, so they can be placed on or near a video monitor.
OTHER FEATURES
To make set-up and operation a breeze, the DVX-S60 provides on-screen display, and has 30 presets (10 AM and 20 FM), making it easy to instantly access your favorite stations.
Thông số kỹ thuật của dòng âm thanh hi-fi YAMAHA DVX-S60 Dàn 5.1
| | |
| --- | --- |
| MAIN, 1kHz, 0.9% THD, 8Ω | 30W + 30W |
| CENTER, 1kHz, 0.9% THD, 8Ω | 30W |
| REAR, 1kHz, 0.9% THD, 8Ω | 30W + 30W |
| SUBWOOFER (100Hz, 0.9% THD, 5Ω) | 35W |
| Audio | Analog |
| Video | Composite |
| S-Video | DVD only |
| Component | DVD only |
| Format | NTSC |
| S/N Ratio | More than 105dB |
| Total Hamonic Distortion (%) | 0.003% THD |
| Wow/Flutter | Below measurable limit |
| FM Tuning Range | 87.5 to 107.9MHz |
| AM Tuning Range | 530 to 1710 Khz |
| Type | Acoustic Suspension |
| Drivers | Dual 2" drivers |
| Impedance | 8Ω |
| Magnetic Shielding | YES |
| Woofer | 6 1/2" cone |
| DVR-S60 (main unit) W x H x D | 17 1/8" x 3 9/16" x 15" |
| NX-S60S (satellite speakers) W x H x D | 2 13/16" x 6 7/16" x 4 3/8" |
| NX-S60C (center speaker) W x H x D | 11 13/16" x 2 13/16" x 4 5/16" |
| SW-S60 (subwoofer) W x H x D | 7 7/8" x 13 13/16" x 8 1/8" |
| DVR-S60 (main unit) | 17.6 lbs |
| NX-S60S (satellite speakers) | 2.0 lbs |
| NX-S60C (center speaker) | 2.5 lbs |
| SW-S60 (subwoofer) | 10.6 lbs |
>>Có thể bạn quan tâm thêm Loa Hi-fi : YAMAHA DVX-S200 Dàn 5.1 hàng chính hãng 100% bán chạy nhất tại HuyLanAnhAudio.