Những đặc điểm nổi bật của Wharfedale SPX 815:
Wharfedale Pro's new SPX815 Powered Mixer provides you with everything you need in a compact, powered mixer. Designed for ease of use and quality audio performance, the SPX815 offers many traditional features found in powered mixers along with some additional unique features that will enhance the technical capabilities of your performances.
>>Xem thêm: Wharfedale Pro BX - 1360, Wharfedale MP 1200
The SPX815 has 9 mono, balanced/unbalanced mic inputs. The last two mono Mic channels on this model offer a "Super Hi-Z" input for the connection of low level instruments. The rest of the mono channels provide additional balanced, line level inputs. Two additional stereo input channels provide the flexibility of dual RCA, and dual ¼" balanced analog input jacks. To top that off, a third stereo input channel with dual ¼" balanced analog inputs also provides a unique, and handy USB port for connection of your laptop computer for stereo playback and recording of digital audio to and from the SPX815 Powered Mixer!
Channel level control and pan
Each mono channel on the SPX815 Powered Mixer offers a channel level control and pan along with variable input TRIM control for detailed input level setting, three band shelving equalization controls, and two separate auxiliary mix controls for stage monitors (MON) and internal or external parallel effects (EFX) processing. Stereo channels each offer channel level and pan, TRIM, two band equalization and summed monitor (MON) and effects (EFX) auxiliary mix controls.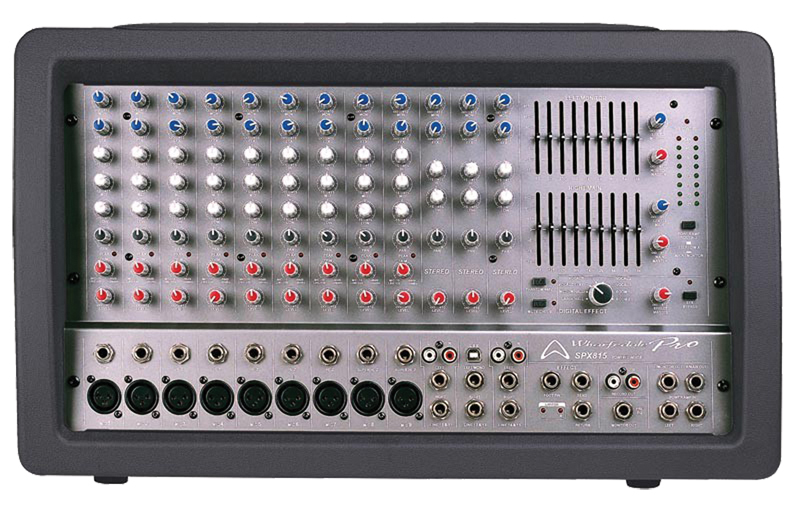 Versatile master section
The versatile master section provides sophisticated control of the overall mixing parameters. These powered mixers offer the capability of being used as a stereo sound reinforcement system, or they can be configured to work as a mono-main and mono-monitor system, making use of the two independent power amplifiers housed within each unit.
Nine band graphic equalizers
Nine band graphic equalizers allow for the flexibility of detailed tonal control of the overall output of each amplifier. When in stereo mode, one graphic "EQ" controls the left output while the other controls the right output. When in mono-main/monitor mode, one EQ controls the mono main speaker output while the other EQ provides for the tonal characteristics of the stage monitor mix, allowing for detailed tonal and feedback control (+/- 12 decibels) within nine different frequency bands.
Effects Processing Signals
Along with a convenient "MONITOR MASTER" level control the SPX613 offers a beneficial "EFX TO MONITOR" control, allowing for the blending of the internal (or external) effects processing signals to the stage monitor mix. Likewise, there is an equally advantageous "EFX TO MAIN" level control that mixes the effects with the signals that are routed to the main mix outputs. Separate, balanced, line level "L/MONITOR OUT" and "R/MAIN OUT" jacks are available for more detailed applications where external monitor and main system amplification might be required. Eight preset digital effects selections are built in and provide the most popular effect processor functions, including various types of reverbs and delay parameters. The effects can be instantly defeated via a front switch or an external foot switch control (not included).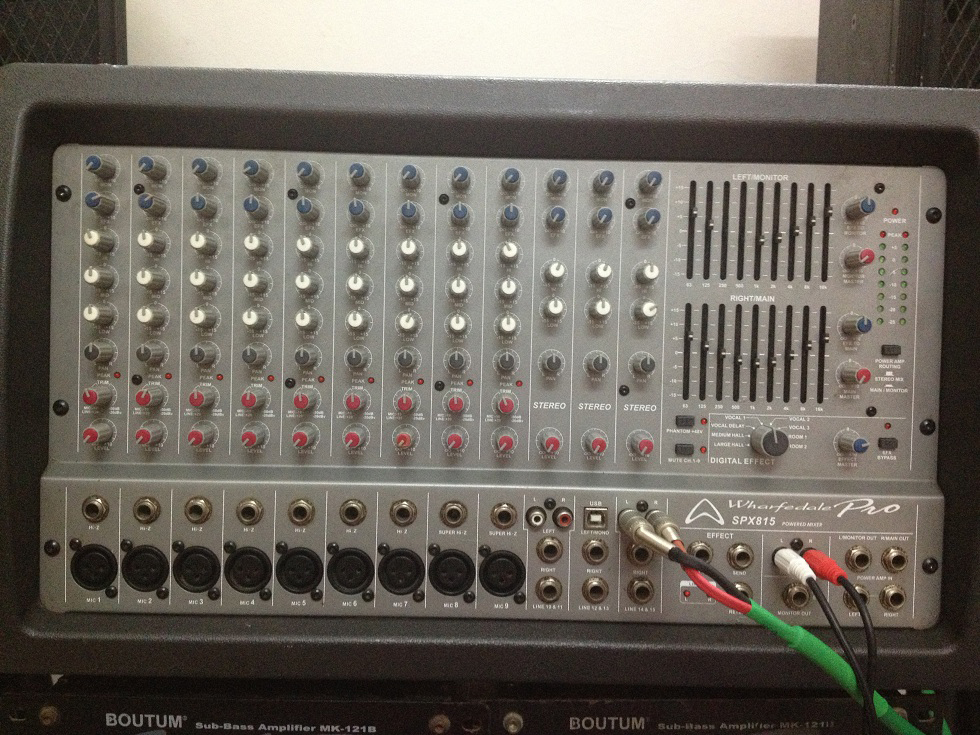 Additionally, dual RCA outputs provide an analog, stereo "RECORD OUT" for recording signals that are routed to the main outputs. A balanced ¼" "pre-EQ" MONITOR OUT jack is provided for additional routing capabilities of the MON mix and a helpful pair of "POWER AMP IN" balanced ¼" jacks open up the system with the capability of adding additional mixes from other mixers and routing them to the power amps within the SPX mixers. Eight segment LED bar-graph meters clearly and accurately reflect system signal strength.
9 Mic/ Stereo inputs,400 Watts/channel

High headroom, ultra low noise mic preamps

Dual low-noise, high-output power amplifiers

USB Stereo input and output

Built-in, 8 preset, 24 bit digital effects processor

High quality dual 9 band graphic equalizers for mains and monitors

3-band, shelving equalization on each mono channel

2-band, shelving equalization on each stereo channel

Built in compressor prevents signal clipping

Super Hi-Z input channels for instrument level signals

Separate monitor and effects sends on each channel

Amp routing switch assigns power amps to mains or mains-plus-monitors

Massive toroidal transformer for high current output

Variable trim control on each mono channel

PEAK signal level LED indicator on each mono channel

Dual LED bar-graph signal meters

External effects processing send and return jacks

Mono input group MUTE switch

Stereo line level outputs and stereo power amp inputs
Thông số kỹ thuật của Wharfedale SPX 815:
MODEL

SPX815

FREQUENCY RESPONSE

SPEAKER OUTPUT

20Hz - 20kHz + 1dB,

MAIN OUT, MONITOR OUT , EFFECTS OUT

20Hz - 30kHz + 1dB,

OUTPUT POWER

400W/40ohms, 300W/8ohms

HUM AND NOISE

SPEAKERS OUTPUT

-58dB residual output noise

MAIN OUT, MONITOR OUT

-100dB residual output noise

- 90dB, Master Level Control: Nominal level Channel Level Control: Minimum

- 75dB, Master Level Control: Nominal level Channel Level Control: Minimum

EFFECTS OUT

- 78dB, EFX Master Level Control: Nominal level Channel Level Control: Minimum

- 74dB, EFX Master Level Control: Nominal Channel Level Control: Nominal

DIMENSIONS (HXWXD)

310 x 526 x 347mm

12.2" x 20.7" x 13.7"inches

WEIGHT

21.4kg

47.1 lbs

POWER CONSUMPTION

1000W

TOTAL HARMONIC DISTORTION (THD)

Less than 0.3%

MAXIMUM VOLTAGE GAIN

MIC TO

MAIN AND MONITOR OUT

75dB

MIC TO EFFECTS OUT

90dB

MIC TO RECORD OUT

60dB