Những điểm nổi bật của Quad Elite Stereo
The Quad Elite Stereo power amplifier has been carefully revised to ensure it retain its predecessors' acclaimed musicality, whilst delivering enhanced punch and drive, alongside greater finesse and resolution. New ultra-low-noise transformers are used, and all power supply components have been specially selected following extensive listening tests. Delivering 2x80W and 150W respectively, both Stereo and Mono offer instantaneous overload recovery and full protection against over-driving without resorting to output line fuses or relays, which degrade the quality of the audio signal. Both amps deliver more sonic presence and impact than their predecessors, whenever the music requires it.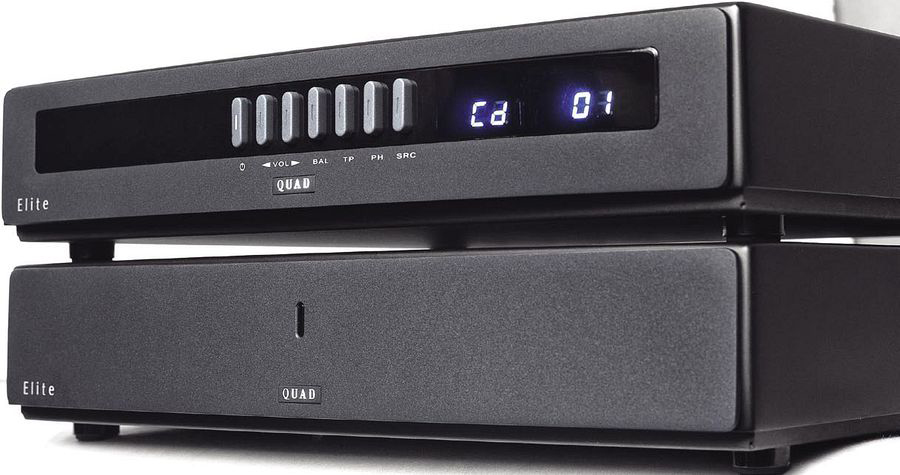 Sản phẩm hi-fi Quad Elite Stereo chính hãng 100%
Quad's reputation as a manufacturer of high-end audio and electronic products engineered using state-of-the-art technology and the latest of innovations has earned the brand numerous recognitions worldwide. And, following the established reputation of Quad's series of digital CD players and analogue amplifiers, now comes its latest innovation, the new Quad Elite Series.
The new Quad Elite Stereo power amplifier has been developed utilizing the strongest design features derived from its predecessor, the 99 Series, but the new exhibiting updated internal audiophile-class components, highly specified transformers, multi-layer circuit boards and the latest, most advanced software available.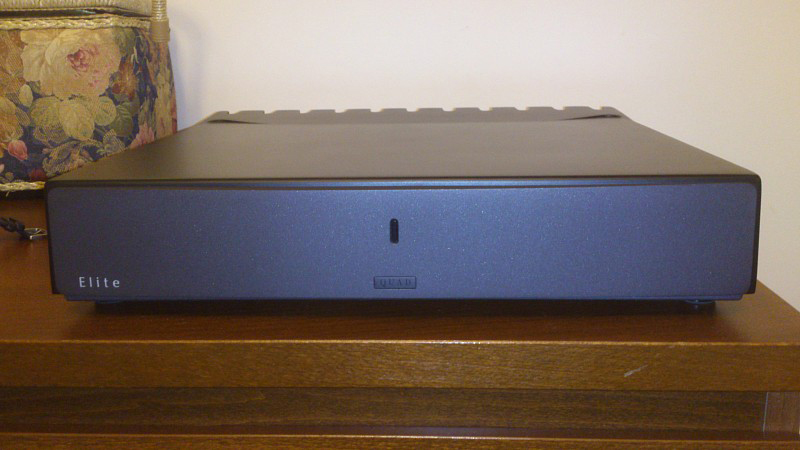 The Quad Elite Stereo power amplifier new designs build upon the classic Quad sound, adding increased clarity and definition but foremost ensuring that the integrity of musical performance is more accessible and that the message conveyed by the actual music can clearly be heard despite any deficiencies in the recording. Devised as a fully integrated system, the Quad Elite power amplifier works best when paired when paired with the rest of the Elite Series. The Elite Stereo power amplifier is enhanced according to the highest of Quad's engineering standards to ensure that ease of use, seamless connectivity, fully balanced audio signals plus intelligent control systems that allow complete control via the remote handset, is achieved.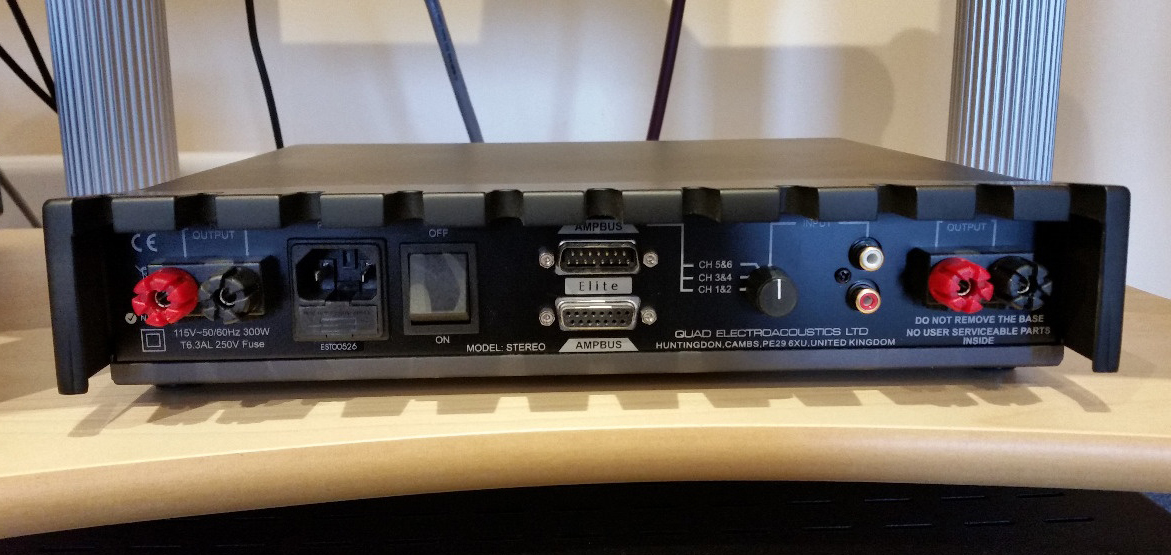 The Quad Elite Stereo power amplifier player flaunts a sleek new modern case work design in matte black maintaining a bold but stylishly elegant aesthetic. Constructed using superior class cast alloy, a material used in almost of all Quad's electronic products, ensures that quality is according to Quad's exacting standards, which in turn guarantees a valuable investment that will last a lifetime and will garner much merit over years of enjoyable use.
General Description
Stereo Power Amplifier
Output Power
80W RMS x 2, 8Ohms
Frequency Response
0.2Hz – 75kHz (+/-3dB)
Total Harmonic Distortion
‹0.005% at 70W, 1kHz
‹0.05% at 70W, 20kHz
Signal to Noise Ratio
>105dB (20Hz – 20kHz) ref 100w
Input Sensitivity (RCA)
775mV(for max output)
Input Impedance (RCA)
33KΩ
AMPBUS Input Sensitivity
2.0V(for max output)
AMPBUS Input Impedance
10KΩ
Main Power On/Off Switch
Yes
Dimensions (H x W x D)
70 x 321 x 310 mm
Weight
6.25 kg
Finish

Black