If you're in search of a powerful home theater foundation that offers a multitude of streaming options, compatibility with iPod, iPhone and iPad as well as exquisite audio and video processing capabilities, the Pioneer VSX-822-K 5.1-Channel 3D Ready A/V Receiver could be a good match for your needs. It offers 80 watts per channel with six HDMI inputs with support for 3D video from Blu-ray discs, broadcasting and video games, as well as Deep Color, x.v. Color and Audio Return Channel. So in addition to the HD Blu-ray format, this receiver is ideal for all current and future high definition sources with extensive connectivity options for legacy equipment as well.

The VSX-822-K can upscale from virtually any source up to 1080p for crisp, clear video displays no matter what you're watching. Of course, it supports advanced surround sound processing of Dolby and DTS formats including Dolby True HD and DTS-HD Master Audio to give your Blu-ray disc movies a soundtrack that's realistic and lifelike. It also supports Dolby Pro Logic IIz, which adds a "height" channel for an even more immersive experience.
Since this receiver is certified to work with iPod, iPhone and iPad, Pioneer has included several features for seamless operation with your iDevices. After a download from the App Store, you can control master and per-zone volume, room calibration and more. You'll have a simple but powerful way to adjust your home theater sound however you like, from the convenience of your portable device. You can also enjoy music with iTunes album art, movies and downloaded TV shows from iTunes, photos, web content like YouTube clips and more. With AirPlay, you can stream music from your iPod, iPhone or iPad from your iTunes library -- wirelessly!
But once you've connected the VSX-822-K to an internet connection, your home entertainment possibilities don't have to end there. This receiver is Bluetooth ready (optional adapter is required) stream content from your iPhone, Blackberry, or Android smartphone as well as other Bluetooth-enabled sources like a laptop.
AV Receivers Hi-fi
VSX-822-K features Pioneer's exclusive Multi-Channel Acoustic Calibration system (MCACC), which provides a near studio-quality, multi-channel listening experience customized specifically to your listening environment. An included microphone measures every speaker's connection, and notes its size, distance from the listening point, sound levels and timbre to calibrate and maximize performance. So, pretty much any seat will be the best seat in the house.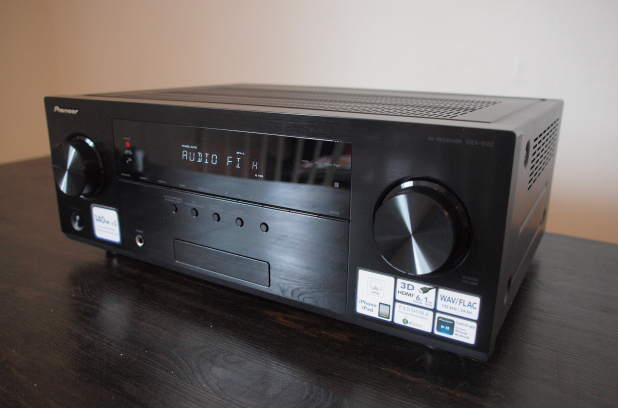 And there's more -- with Pioneer's Advanced Sound Retriever, your WMA, MP3 and AAC music files will sound cleaner and clearer than ever. This fills in areas where minute details were left out during the compression process.
In addition to controlling the receiver with your iPod, iPhone or iPad, you can also utilize the full color on-screen GUI along with the included preset remote to adjust and tweak your home theater sound. Clearly, the VSX-822-K allows for advanced audio and video processing while offering compatibility with portable Apple devices and providing a gateway to internet radio and more, right in your own living room -- just add a Blu-ray disc or DVD player, TV and speakers of your choice for the ultimate networked home theater system.
>>Bạn có thể tham khảo thêm sản phẩm:
Denon AVR-X1400H
để có thể tìm mua cho mình một sản phẩm hifi tốt nhất.
Direct Energy Amplification
Amplifier
Power Output
80W per channel (20 Hz - 20 kHz, 0.08% THD @ 8 ohms)
110W per channel (1 kHz @ 8 ohm)
140W per channel (1 kHz @ 6 ohms)
No. of Channels
5.1
Audio Processing
Dolby TrueHD
Yes
Dolby Pro Logic IIz
Yes
Dolby Digital Plus
Yes
DTS-HD Master Audio
Yes
DTS ES
Yes
DTS Neo:6
Yes
THX Processing Mode
No
THX Certified
No
DAC
192 kHz / 24-bit
Convenience
Speaker Selector
No
Multi Room/Source
No
AM/FM Tuner
Yes, 30 presets
Remote Control
Yes
Connectors
Inputs
HDMI x 6 (rear)
Component video (assignable) x 1
Composite A/V input x 2
Analog audio inputs x 3
Digital coaxial (assignable) x 1
Digital optical (assignable) x 1
MCACC setup mic in (front) x 1
Ethernet x 1
IR serial remote in x 1
Outputs
HDMI x 1
Monitor composite out x 1
Analog audio outputs x 1
Headphone out (front) x 1
IR serial remote out x 1
Speaker 5 ch out
Preout SB/FH out x 1
Subwoofer pre-out x 1
Other Ports
Bluetooth adapter port x 1 (optional AS-BT200)
Front USB memory input x 1
IR serial remote in/out x 1 / x 1
Video Input Conversion
Video conversion to HDMI
General
Power Requirements
120 VAC, 60 Hz
Power Consumption
450W
0.4W standby (control off)
Dimensions (WxHxD)
17.13 x 6.60 x 13.48" (43.5 x 16.8 x 34.2 cm)
Weight
19.62 lb (8.9 kg)
Packaging Info
Package Weight
23.2 lb
Box Dimensions (LxWxH)
20.3 x 17.5 x 9.5"