The ELOP® LIMITER: Our beloved Electro-Optical Levelling Amplifier circuit, the ELOP®, still the favorite for vocal tracking, shows up here with its new switchable side-chain high pass filter making it much more useful for mixes and other tracks as well. One of the most appreciated aspects of our original ELOP® is the simplicity of a two knob limiter, which is optimum for demanding pro recording pressures. You can still grab two knobs and have complete control of level and dynamics and be ready to hit that record button. Intuitive controls and a straight ahead signal path through quality components simply work. The ELOP® limiter implementation is done like we did in our VOXBOX® which pioneered the idea of limiting the mic signal before it hits any active stage. The ELOP limiter moves to the line stage when LINE is selected. The ELOP sidechain provides different HP filters on a toggle. The 200 Hz setting has been tailored for vocals and adds a touch of de-essing.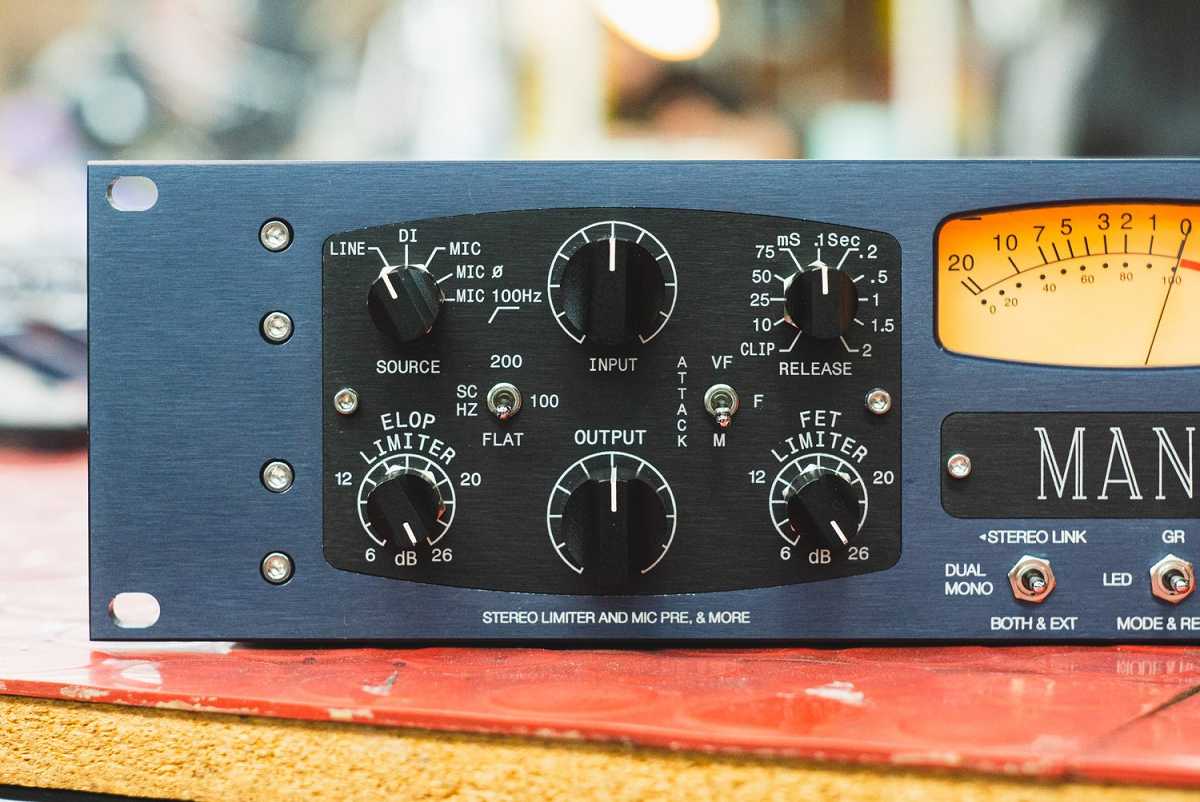 The FET LIMITER: Here's a new fast FET based "brick wall" limiter that spans the range of clean predictable limiting to the grunge and gravel that other FET based limiters are desired for. The FET RELEASE control allows you to dial up a variety of colors. There is even a "CLIP" setting that provides as round a shape as has ever been available. (Read more below about the CLIP settings.) We aimed at "sound" first, then experimented with circuits until we heard what we wanted discovering fresh approaches that provide a very wide range of useful dynamic control. For example, you can set up for a fast brick wall limiter with slower releases for minimum artifacts, or go with the faster releases to get some crunch and then get extreme loudness. The Attack control is unusual too providing the sonic control common with its historic brothers but very unusually retaining the zero overshoot "none-shall-pass" brick wall that defines a real limiter. And it's punchy! As the saying goes, "Louder is better." The SLAM! optimizes levels to analog to digital converters with ballz, warmth and loudness verging on silly or just clean and safe.
What is especially nifty is the ability to use the ELOP® and FET limiters together at the same time dialing in whatever amounts of each effect you like. Every limiter has its own character or sound and here we have combined two powerful world-class tools that can be uniquely blended and mixed to taste and purpose. Even the metering is appropriate for each limiter so you can easily see how each is contributing.
Metering on the SLAM! is exceptional. The two full size real VU meters show you the raw input levels, the final output levels, and the ELOP® Limiter gain reduction in the traditionally preferred format for visually displaying apparent loudness. VU's are cool. Noticing how mastering engineers often need a switchable pad on their VU's because the "optimized" levels tend to pin the needles in the red, the SLAM! VU's also have a 0, -3dB, -6dB switch to help with this situation. There are also very fast and super accurate multi-color LED ladder peak meters that display the input and output levels and the FET gain reduction, and some combinations. They will do Peak, Peak Hold timed, and Peak Hold until reset, and also allow you to manually set where the individual bars change colors to match your other gear. And with maximum clean I/O levels of +30 dBu, it is a lot more likely you will use these meters to see what's clipping downstream. It probably won't be the Manley tube line drivers inside!