1. Ưu điểm:
Kiểu dáng hiện đại
Tiếng ôn thấp, chạy ổn định
Thích hợp cho các dòng loa nghe nhạc
2. Đặc điểm Integrated Amplifier Luxman L-550AX:
The L-550AX is a solid-state integrated amplifier to incorporate a truly lossless volume control and superior audio circuitry. With an illuminated central oriented VU meter in its solid, symmetrical front fascia, the L-550AX incorporates the LECUA 1000 high precision electronically controlled attenuator, the latest ODNF 3.0A audio circuit and custom passive components as used in Luxman's flagship C-1000f control amplifier and B-1000f mono power amplifier.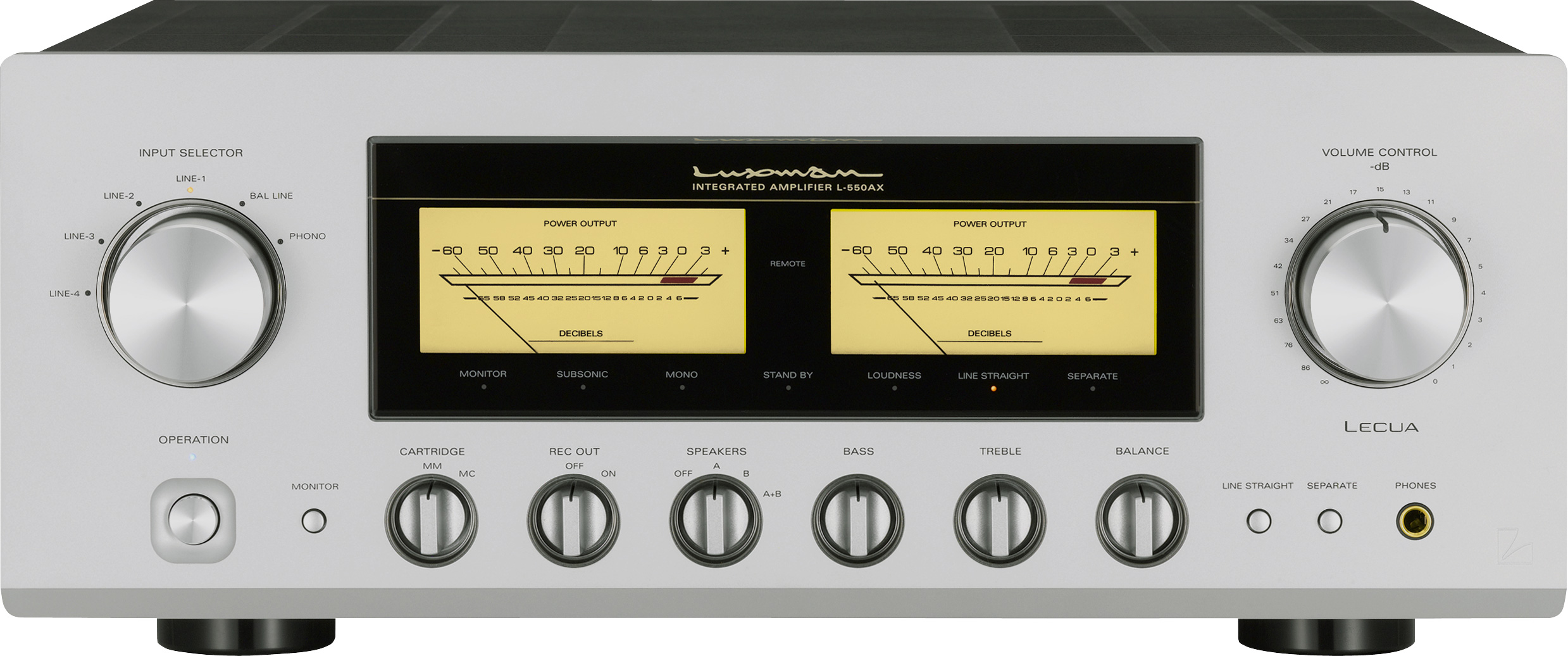 The LECUA 1000 attenuator is configured to electrically block electromagnetic (EMI) and radio frequency (RFI) interferences. The output signal is attenuated without introducing artifacts inherent of conventional volume controls, thereby resulting in constant output impedance, high signal-to-noise ratio, a uniform frequency response and lowered distortion. As its name implies the ODNF (Only Distortion Negative Feedback) only applies negative feedback where distortion is present to reduce colouration more effectively.
This lossless audio circuit enables the amplifier to retrieve every musical nuance captured by recording engineers. Transient response, attack, dynamic contrast, timbre, inner detail, and bass authority are preserved.
Pure Class A
Thanks to the always-on nature of the topology and the removal of an entire type of distortion, allied to sound that excels in a midrange liquidity, low-level detail, superb dynamics and transparency, its devotees are more than happy to put up with low efficiency and heat. What Class A always seems to offer above everything else is a tube-like sound without the maintenance hassle of tubes.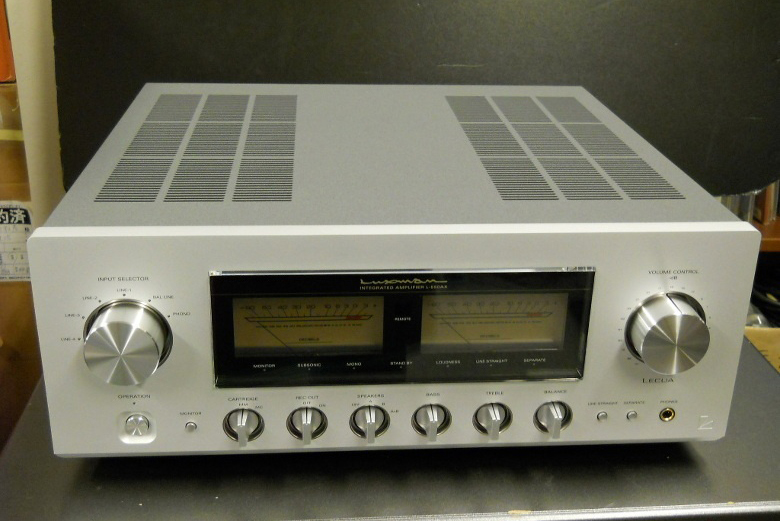 Input Selector
The L-590Ax, L-550Ax and the L-509u, feature the new high quality electronic selector switch, which is the heart of the C-1000f pre-amp (one of Luxman's 80th anniversary commemoration models). The sound quality deterioration using the new electronic input switch is now minimal, while channel separation and crosstalk efficiency were raised substantially in comparison with the L-550A / L-590A. In addition the illuminated position indicator around the input selector knob, makes it much easier to view the selected position even from afar.
Volume Control
The integrated amplifiers also benefit from the C1000f in that they use a variation of the LECUA 1000 volume control. At any single volume setting only a few resistors are in circuit per channel. The less devices in the signal path, the purer the sound, the cleaner the music.
At low listening levels, potentiometers have trouble keeping both channels in balance, so one channel might easily be 3dB louder than the other. With the volume control made of discrete parts, this is no longer an issue.
Amplifier
The amplifier section has not been ignored either; noise and distortion has been kept to a minimum with the introduction of ODNF version 3.0A. The deep, rich Class A tone is available here is Luxman's hall-mark sound. More info on ODNF below.
Pure Copper Cabling
Extensive listening was applied to the high purity, oxygen free copper (OFC) cables which are used to transmit the signal throughout the amplifier. These cables have a minimal audible signature and minimal electrical effect on the audio waveform. Linear wide bandwidth frequency response is achieved by the low measured values of both inductance and capacitance. The result, the cables do not color the sound, but pass it through, quickly.
Phono Stage
Enjoy the ability to play or record your LP collection with the built-in phono stage which accommodates both Moving Magnet and Moving Coil cartridges. The MM input has approx. 35dB of gain. While the MC input has 55dB of gain (a multiplication of 550x). We recommend MC cartridges with an output >.7mV. Lower than that you might consider using the MT-88 moving coil step-up transformer. Click here to be redirected.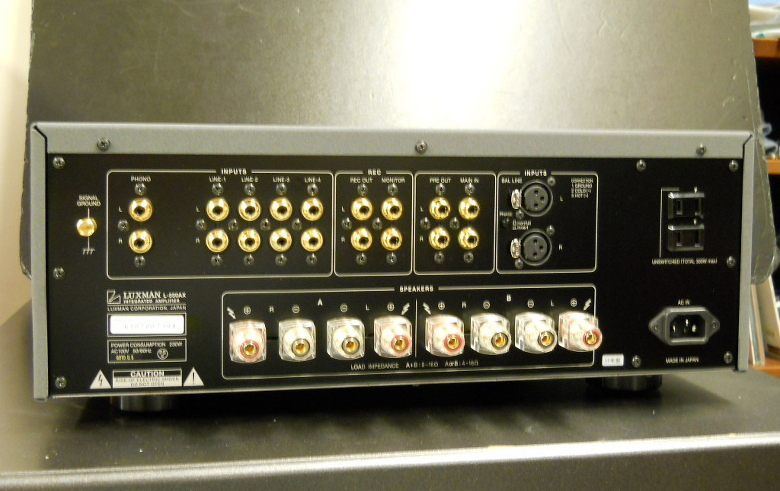 The L-550Ax has a new improved phono stage; quieter, more detailed and yet as rich and musical tonally as Luxman are famous for.
Subsonic Filter
A subsonic filter is also easily accessible from the remote control in order to remove unwanted low frequency noise while you are listening to a record. When the stylus hits the groove, you might notice the woofers modulating in and out, even though there is no music playing yet. This is due to the ultra low frequency information (below the music), this unnecessary information places a strain on the amplifier and is best filtered out. A mono switch is also available for both loudspeaker setup as well as mono record playback.
Headphone Amplifier
There is also a high quality headphone amplifier, accessible from the front panel, ideal for late night listening. You can turn off the speaker output by a simple click of the Speaker Selector.
The headphone outlet sees the same signal as the speaker terminals, there is one resistor per channel in the signal path to pad down the output.
Two Pairs of Speaker Terminals
Large speaker terminals for driving two individual sets of speakers. At the turn of the speaker switch, it is possible to change between the two pairs of speakers easily. In addition, if the A+B function is used; Takasina capacitors are used to parallel the output which permits bi-wiring a single pair of speakers.
ODNF 3.0
Luxman holds many patents for audio engineering, amongst them is the application of Global Negative Feedback to the output stage, which while widely used throughout the audio industry, they no longer use themselves.
Luxman nowadays use a distortion reduction circuit called Only Distortion Negative Feedback (ODNF). This system works by isolating noise & distortion at the output from the music signal and sparingly applying negative feedback to suppress them. Conventional negative feedback systems can have an adverse effect on the music, introducing phase distortion. "The circuit features such an ultra-wide range, ultra- high slew rate and ultra low distortion that it does not use phase compensation for the music signal amplifying circuits." This new technology also ensures that need for a DC servo circuit is alleviated, again improving sound quality.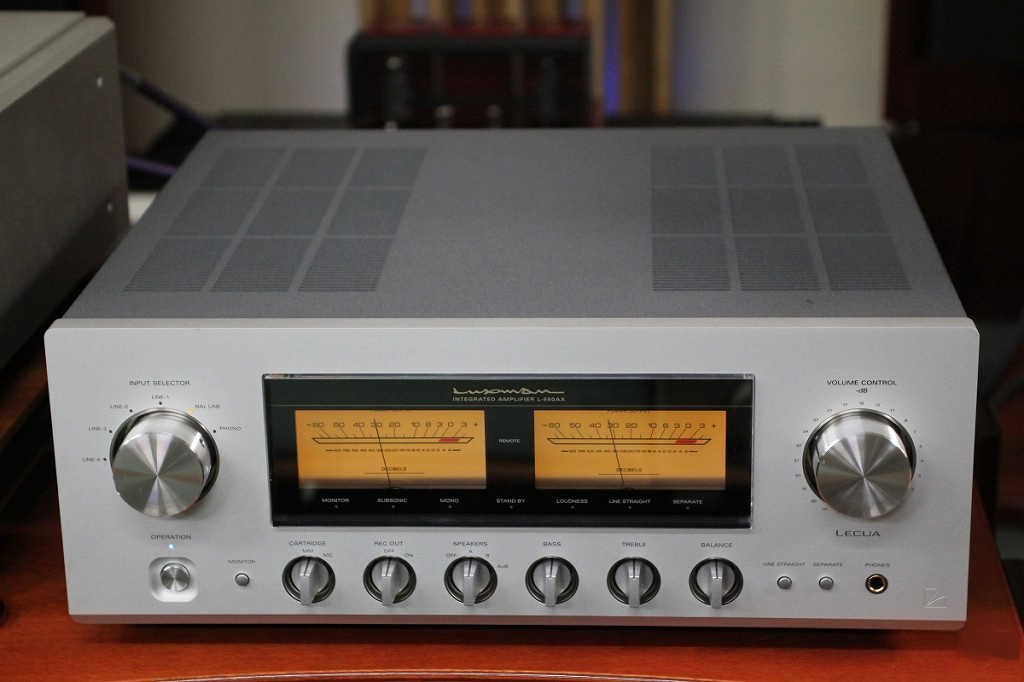 Now with version 3.0 three different monitoring passes are made of the audio signal, to eliminate any noise or distortion in the music signal. It results in a lower noise floor of about 2 dB, giving you blacker silence between the notes and a more dynamic performance.
Tone Controls
The tone controls might seem like an anachronism in this day and age of minimalism, but they can be remarkably effective in bring to life a less than perfect music collection. We all have music gems in our collection that are sonicly challenging. A lot of the 1980's CDs are quite harsh sounding and the digital glare can be quite fatiguing. Reduce the treble slightly and while the harsh CD is not going to suddenly sound like a reference recording, at least it will now be perfectly listenable. Sit back relax, enjoy the music & forgot about the HiFi. When you want to bypass the tone controls, just engage the Line Straight switch, either from the remote control or from the front panel
- Chúng tôi luôn hướng đến sự hài lòng của khách hàng một cách tốt nhất.
- Giao hàng và bảo hành nhanh chóng trong vòng 24h.
- Dịch vụ hậu mãi, nhân viên chu đáo.
- Linh kiện, phụ kiện thay thế cam kết chính hãng, lắp đặt đúng quy trình của nhà sản xuất.
Thông số kỹ thuật cơ bản của Integrated Amplifier Luxman L-550AX
Item
Value
Rated Output
2 x 20W RMS / 8 2 x 40W RMS / 4
Input Sensitivity / Impedance
Phono (MM): 2.5mV / 47k
Phono (MM): 0.3mV / 100k
Line:180mV / 42k
Total Harmonic Distortion
0.007%
Frequency Response
20Hz ~ 100kHz (-3dB)
S/N Ratio
105dB
Line Inputs
4 x LINE, 1 x Balanced, 1 x MM/MC (switchable), 1 x TAPE, 1 x Power Amp in
Line Outputs
1 x Pre-Amp out, 1 x TAPE, 1 x headphones
Speaker Outputs
Speaker A/ B switchable, Speaker A+B
Dimensions (W x H x D)
440 x 178 x 454 (mm) (including control knobs and terminals)
Weight
24.3 kg