Những điểm nổi bật của sản phẩm âm thanh hi-fi YAMAHA DSP-Z11
Yamaha introduces a new benchmark for home theater receiver performance: the RX-Z11. The RX-Z11 performance sets a new standard in home theater experience and includes extensive multi-zone custom installation and convenience features, plus a Web Browser Control.
Features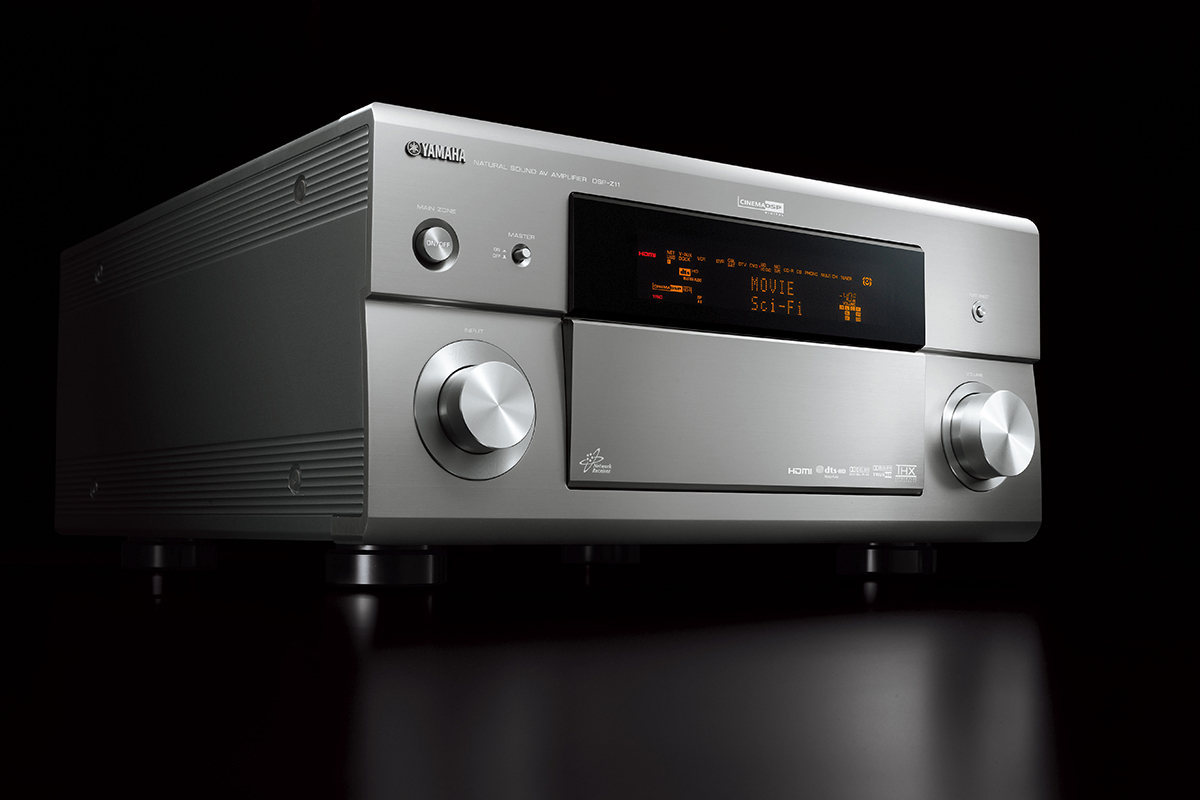 Âm thanh hi-fi YAMAHA DSP-Z11 hàng chính hãng 100%
RX-Z11 11.2-Channel Digital Home Theater Receiver
Yamaha takes receiver evolution to a new peak with an enormous range of exciting capabilities.
Unprecedented Audio Performance
Trilateral Sound Development for the HD Audio era
Discrete 11-channel amplifier configuration delivering a total of 1,180W (140W x 7 + 50W x 4)
Digital ToP-ART and High Current Amplification with high quality and custom-built audio-grade parts and devices used throughout
Super Stable Chassis design
High Sound Quality
Preamplifier Stage
New Pure Direct for lossless audio formats also
Pure Ground DAC Concept
High quality preamplifier block design
Low-Jitter PLL and Digital Clock Circuits
High quality headphone amplifier circuit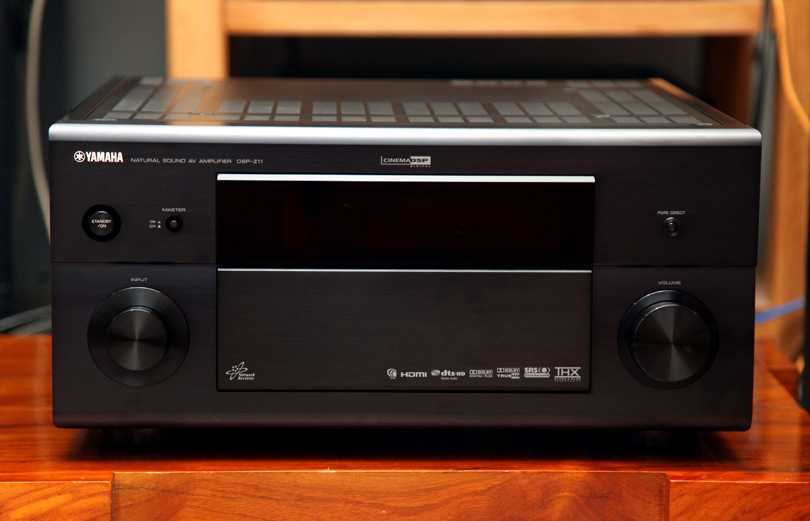 Power Amplifier Stage
All-Channel Current Feedback Circuit
Hybrid Low Noise Power Supply
Symmetrical Layout and New Power Circuit Layout
Low-impedance, minimum loop print pattern
Thick aluminum panels and large, heavy feet
High Picture Quality
Latest HDMI 1.3a specification supports Deep Color (30/36 bit) transmission, xvYCC color space, 120Hz and 24Hz Refresh Rates and Auto Lip-Sync compensation
Analog and HDMI digital video signal upscaling to Full HD 1080p and down-scaling to 480p format
Analog video to HDMI digital video upconversion capability
4 Component Video in and 2 monitor outs
Surround Realism
New CINEMA DSP HD3 creates lush, dense, accurate sound field
THX Ultra2 Plus surround modes
Improved Compressed Music Enhancer
Adaptive DRC (Dynamic Range Control) and DSP effect level controlling capability
SILENT CINEMA and Virtual CINEMA DSP
Advanced Features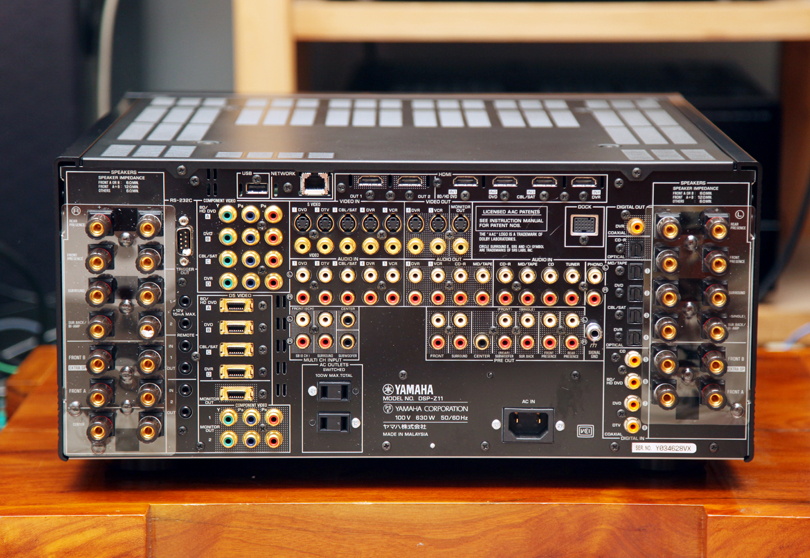 Network Receiver Capabilities
Network port to connect a PC and Yamaha MCX-2000 or access the Internet Radio via LAN
Compatible with Windows Vista & Windows Media Player 11 as well as Windows Media Connect
PlaysForSure network device support
2 USB ports (1 on front, 1 on rear) to connect USB memory devices or portable audio players
Supports MTP devices and Mass Storage Class devices
Supports 500mA power from USB port
Supports USB HDD (FAT32 format, up to 2TB)
iPod compatibility via optional Yamaha Universal Dock YDS-10
Advanced YPAO (Yamaha Parametric Room Acoustic Optimizer) for automatic speaker setup
Multiple point measurement feature for multiple listening positions
Specialized parametric equalizer for standing wave reduction
Speaker angle measurement feature for optimized CINEMA DSP
YPAO Easy Starter
HD Radio™ digital broadcast reception capability
XM ready with XM HD Surround powered by Neural-THX Surround Decoder
Multiple Subwoofer connection capability
6 or 8-channel additional input jacks for discrete multi-channel inputs
10 System Memories for Main Zone and 4 System Memories for other each Zone
GUI on-screen display of six languages: English, French, German, Spanish, Russian and Japanese
Versatile Zone Control
Intelligent assignable amplifiers: bi-amping and multi-zone control (Zone 2/Zone 3/Zone 4)
Preamplifier Mode
Zone 2 video output (component and composite) with OSD capability Zone 2 digital audio output (coaxial)
Party Mode
Display of song data and radio information on zone OSDs
Sleep timer and mute level for all zones
Zone Mono
Flexible and assignable dual +12V trigger outs
Thông số kỹ thuật của dòng âm thanh hi-fi YAMAHA DSP-Z11
Channels
11.2
RMS Output Power (20Hz - 20kHz)
140W x 7 + 50W x 4
Total Power (20Hz - 20kHz)
1,180W
High Sound Quality
Dolby TrueHD
Yes
Dolby Digital EX / Dolby Pro Logic IIx
Yes
DTS-HD Master Audio
Yes
DTS-ES Discrete 6.1
Yes
DTS 96/24 / DTS Neo:6
Yes
Pure Direct
Yes
Neural Surround
Yes (Neural-THX)
D/A Conversion
192 kHz / 24 bit
SRS (Circle Surround II)
Yes
THX Processing
Yes (Neural-THX)
Selectable Subwoofer Crossover
Yes (9-band)
High Picture Quality
Time Base Corrector
Yes
Analog Video to HDMI Upconversion
Yes (Scale to 480p / 720p / 1080i / 1080p)
Component Video Upconversion
Yes
S-Video Upconversion
Yes
Advanced Connections
HDMI (In/Out)
(5 / 2 ) Ver 1.3a
Component Video (In/Out)
(4 / 2)
A/V Inputs (S-Video)
8 (All S-Video)
Digital Inputs/Outputs [O: Optical, C: Coaxial]
(O:5, C:4 / O:1,C:1)
Front A/V with Digital Input
Yes (With HDMI / S-Video / Optical / USB)
Front USB Input For Flash Memory Drives
Yes (Dual USB - Front and Rear)
RS-232C Interface
Yes
Multi-Channel Decoder Inputs
8-Channel
Pre-Out All Channels
Yes
Advanced Features
HD Radio Tuner
Yes
iPod Compatibility
Yes (with optional YDS-11)
Bluetooth Compatibility
Yes (with optional YBA-10)
Compressed Music Enhancer
Yes
XM HD Surround
Yes
XM Satellite Radio Ready
Yes
Network Receiver Functions
Yes
Night Listening Enhancer
Yes
HDMI Standby-through
Yes
Dialogue Lift
Yes
YPAO (w/Optimizer Microphone)
Yes (8 Point)
On-Screen Display (OSD)
Yes (With GUI)
Learning Remote Capability
Yes
Macro Command Capability
Yes
Surround Realism
Surround Programs
38
Custom Features
+12V Trigger Outputs
(x 2)
Zone Power Switching
Yes [Main/ Zone2 / Zone3 / Zone4 (Front panel)]
Assignable Power Amp
Yes
Zone Speaker Terminals
Yes (Zone 2 / 3 / 4 )
Zone 4 Output
Yes (Audio Only)
Zone 2 Output
Yes (Component / Composite / Optical / Coaxial)
Zone 3 Output
Yes (Audio Only)
IR Inputs/Outputs
(x 2)
Zone Remote Control
Yes
Receiver Manager Software
Yes
Speaker A, B or A + B
Yes
Product Dimensions (W x H x D)
17-1/8" x 8-1/4" x 19-5/8"
Product Weight (lbs.)
75
Shipping Dimensions (W x H x D)
22-1/4" x 12-1/2" x 21-1/4"
Shipping Weight (lbs.)
88