1. Ưu điểm:
2. Đặc điểm Loa Living Voice Vox Palladian/Vox Basso:
Visitors to the last three Munich High End shows have been fortunate enough to hear the Living Voice Vox Palladian/Vox Basso horn-loaded loudspeaker system in all its glory -- a million dollar system that actually sounded like a million dollars. The problem is that it's sometimes hard to tell what makes the greatest impression on shell-shocked listeners: the performance or the price. Indeed, unlike a lot of the other big-money systems spread around the show, where the expenditure is divided up between electronics, speakers and cables, in the Living Voice system, the speakers swallowed the lion's share of the budget whole, with the rest of the system looking relatively simple and affordable in comparison.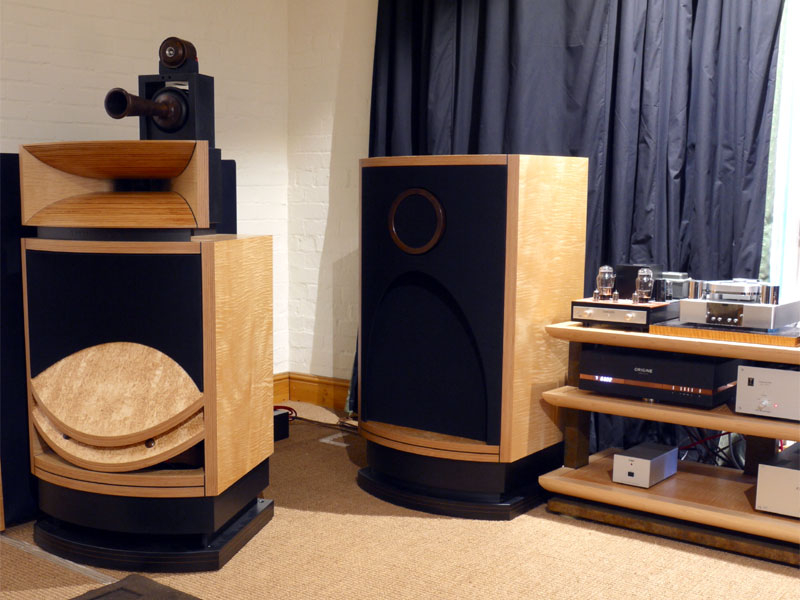 Visitors to the Living Voice room in Munich this go-round could be forgiven for assuming that they're looking at another Vox Olympian setup, but in fact that won't be the case. The speakers making the trek to Munich this year sure look like Vox Olympians, sure sound like Vox Olympians, but are Vox Palladians, a speaker that combines the Vox Olympian cabinet, a cleaner, simpler (and arguably far more modern-looking) finish and a slightly revised driver lineup to create what is, most importantly, a far more affordable product.
But what's most impressive is how little the Vox Palladian has had to concede to the flagship model. As I've already stated, the cabinet itself is geometrically identical and uses identical materials, albeit with less elaborate (but no less effective) junctions throughout the construction. Essentially, the principal difference is the quality and complexity of the veneers and finishing. Okay, so the surface finish on the Olympians is breathtaking, but I'm not sure I could live with it, and when the speakers were here for review I found myself hankering after something simpler -- at least in the looks department. Well, here it is. The Palladian doesn't just look sharper than big brother; at least to my eyes, it looks waymore attractive too. The aesthetic cleanliness is underscored by the use of a simplified superstructure: a plinth/base in place of the Vox Olympian's feet, and toned-down metal work. The bronze work is now chemically patinated to a mottled chocolate-brown finish whose Bakelite-like appearance perfectly complements the blond wood veneers.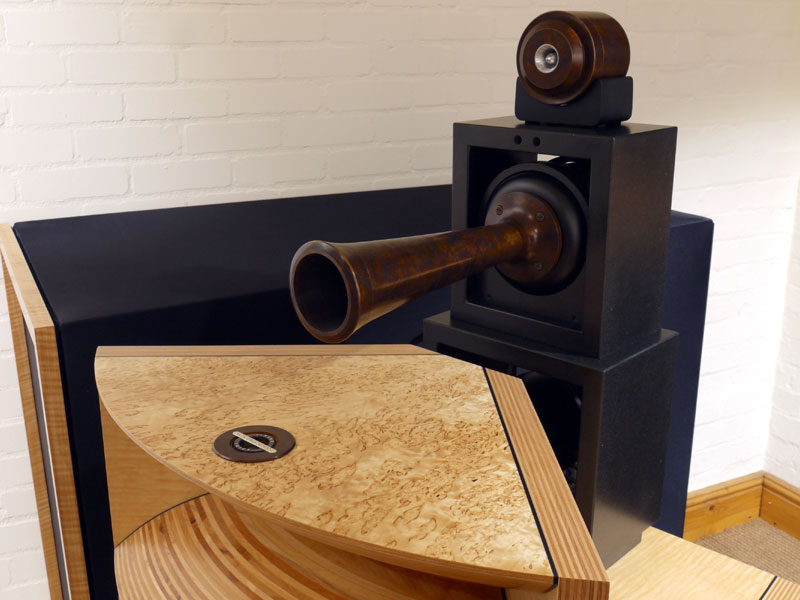 Lurking above the tweeter trumpet is the other big difference between the Palladian and the Olympian. The TAD supertweeter used in modified form in the flagship speaker has been discontinued, so Living Voice bought up the remaining stock and are holding it against future Vox Olympian orders -- and as backup for existing speakers -- a situation that has necessitated a change of driver for the new speaker, along with a revised crossover. The Palladian actually uses an all-new driver, the LV4, a co-development with Vitavox (which already supplies the bass and midrange drivers) produced specifically for this project.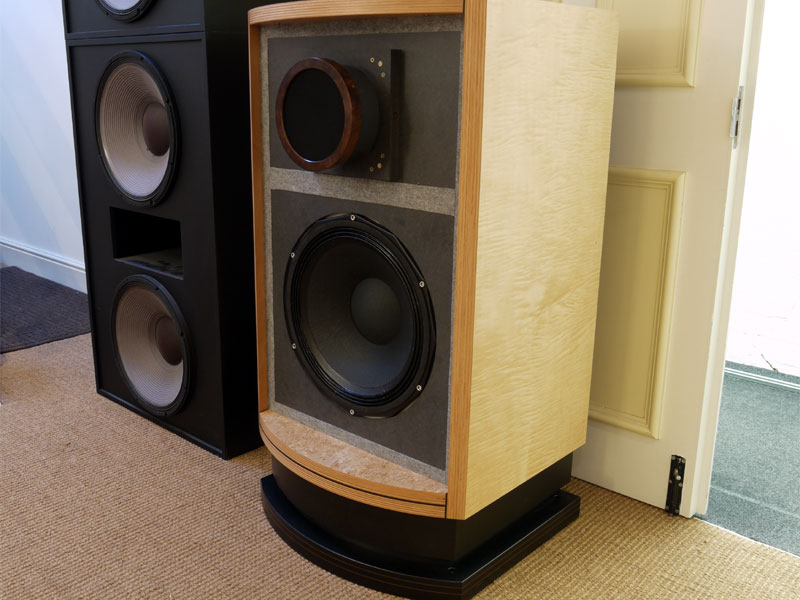 Joining the Palladian is the new Vox Basso subwoofer. A little under half the size, each pair uses a single 18" driver per vented enclosure -- as against the dual-12" horn-loaded lineup of the flagship design -- an arrangement that, using the same electronics package, actually goes deeper than the Vox Elysian, at the cost of some dynamic range.
Even in the final stages of fine-tuning, the Vox Palladians are already redolent with the family DNA. I listened to the new speaker paired with the Vox Elysians, as finalizing the Basso bass units in time for the show was a bridge too far, but the Palladians' qualities were only too apparent. Effortlessly dynamic and fluid, they exhibit none of the hot spots or glaring discontinuities and colorations that bedevil so many composite horn designs. They are astonishingly delicate and have instrumental texture, tonality and harmonics to burn. Images are solid and present, life-sized where appropriate and contained in a coherent acoustic space. If the Vox Olympian is the horn speaker that doesn't sound like a horn (it just sounds like music), then it has been joined by the Palladian. Few speakers of any kind sound as dynamically or temporally connected and coherent as this, and the Palladians manage to compete with all but a very select few when it comes to spatial coherence too. This is musical reproduction where the results really do start to transcend the means. This new speaker is so effortlessly balanced and sure-footed, so utterly unconstrained, that, as big as it is, as complex as it is, it manages to simply disappear, leaving the music, big or small, electronic or acoustic, as a separate, living thing arrayed in front of you.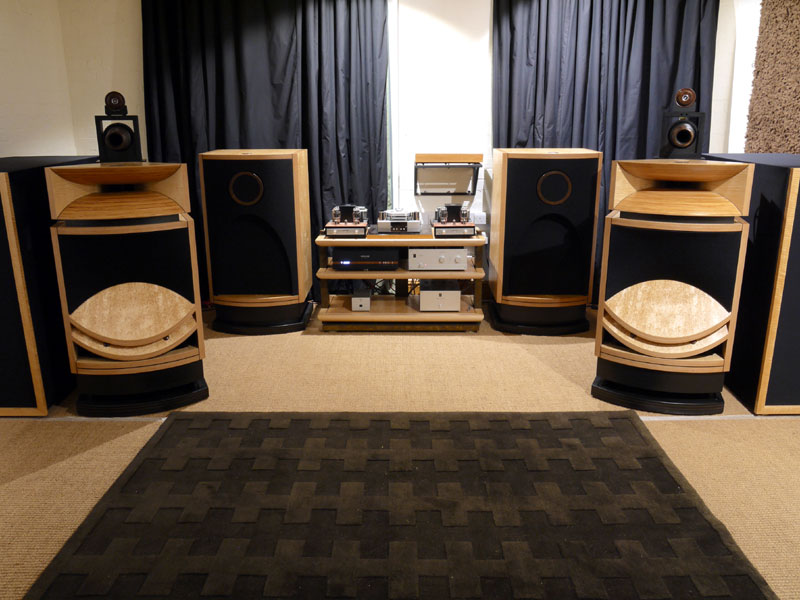 There are those who will tell you that big horns only sound good on small, simple music. Well, tell 'em it ain't necessarily so! Listening to Petrenko conducting the RLPO's performance of the Shostakovich 5th Symphony [Naxos 8.572167] on the Palladians with the Vox Elysians delivering the bottom end was a shockingly powerful experience: dynamic contrasts, light and shade, sudden changes in scale, an icy instrumental palette and towering crescendos -- all the things that should give a full-range horn system the sonic heebie-jeebies -- were traversed with a grace and stability that allowed the system to stay firmly in the background, never intruding on the event. Of course the Neodio Origine CD player and Kondo M77/Gakuoh amplification (armed with Living Voice's own 300B tubes) all played their part, but this was a listening experience that brought home just how constrained most speakers really are -- and how much distance they introduce between the performance and the listener. The chance to really enjoy Vox Olympians is limited to a very fortunate few -- at least on a daily basis.
The arrival of the Vox Palladians and their partnering Vox Basso subs might not make Living Voice's Vox series exactly affordable, but at least they're now approaching the same realm as most of those other totally unaffordable audio products we all love to read about, hear when we can and express opinions on. The one thing I can say is that, having lived with the Vox Olympians, the Palladians are cut from the self same musical cloth. This is no cut-price version of the flagship, achieved by cutting corners. This speaker definitely delivers the full Vox treatment, wrapped in what is for me an even more attractive package.
Fetch up in room Atrium 4 E220 at the Munich show and you'll be able to experience your own little slice of audio nirvana -- or simply have your cynicism reinforced.
- Chúng tôi luôn hướng đến sự hài lòng của khách hàng một cách tốt nhất.
- Giao hàng và bảo hành nhanh chóng trong vòng 24h.
- Dịch vụ hậu mãi, nhân viên chu đáo.
- Linh kiện, phụ kiện thay thế cam kết chính hãng, lắp đặt đúng quy trình của nhà sản xuất.
Thông số kỹ thuật cơ bản của Loa Living Voice Vox Palladian/Vox Basso
Vox Palladian
SENSITIVITY:
105dB
NOMINAL IMPEDANCE:
8 Ohms
TOPOLOGY:
Four-way exponential horn.
OVERALL BANDWIDTH:
70Hz–35kHz
MID-BASS:
70Hz–450Hz
MID-RANGE:
450Hz–5kHz
HIGH-MID:
5kHz–18kHz
SUPER HF:
18kHz–45kHz
POWER HANDLING:
100 Watts
CABINET DIMENSIONS:
W 680mm × D 620mm × H 1800mm
PLINTH:
Integrated plinth with adjustable & retractable feet & PTFE skids.
GROSS WEIGHT:
210Kgs per cabinet.
Vox Basso Sub-Bass Unit
SENSITIVITY:
100dB
NOMINAL IMPEDANCE:
8 Ohms
TOPOLOGY:
250 Litre reflex-loaded single 18" bass driver.
BANDWIDTH:
20Hz–70Hz
POWER HANDLING:
500 Watts
CABINET DIMENSIONS:
W 600mm × D 571mm × H 970mm
PLINTH:
Integrated within the cabinet with PTFE Skids for easy positioning.
GROSS WEIGHT:
90Kgs per cabinet.