Những đặc điểm nổi bật của âm thanh hi-fi Quad Lite 5.1 System Package
Building upon the success of the award-winning Quad Lite and Lite2, the Quad Lite Plus speaker system consists of four satellite speakers for the front and rear, plus a matching centre speaker and a compact active subwoofer. Driver technology developed from Quad's latest 'L Classic' speaker range ensures exceptional sonic accuracy and expression, in line with the brand's unerring performance ethos, coupled to all-new elements including the crossover electronics and smart, curvaceous cabinets.

Each of the five main speakers of the Quad Lite Plus speaker system incorporates a long-throw mid/bass driver (one in the satellites, two in the centre speaker) with 100mm cones made from Quad's proprietary bi-directional Kevlar weave. Self-damping, resin-impregnated Kevlar fiber is lattice-woven to create the appropriate stiffness, strength and weight, then formed into a cone and mounted on a butyl rubber surround.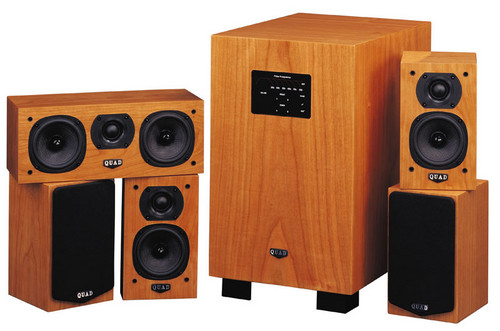 These cones of the Quad Lite Plus speaker system are coupled to a high-efficiency, double hand-wound voice coil and a high-gauss magnet assembly, with a die-cast aluminium chassis keeping everything taut and under control, even when encountering large transients and extremes of power. A profiled phase plug is sited in the centre of each mid/bass cone, helping to smooth the response through the crossover region and enabling a phase-linear response to the tweeter.

The 25mm fabric-dome tweeter of the Quad Lite Plus speaker system incorporates a precision-engineered waveguide to integrate midrange and treble with the utmost coherence. An advanced, phase-linear crossover combines the drive units acoustically, with low-distortion inductors and high-clarity polypropylene capacitors in the signal path. Phase coherence is particularly important to ensure all frequencies from bass to treble knit together perfectly, delivering a holographic sonic image - essential for believable music and movie soundtrack reproduction.

The drive units of the Quad Lite Plus speaker system are mounted in newly designed cabinets, gently profiled for reasons both aesthetic and acoustic. The smooth, curved surfaces aid seamless dispersion of the output from the drive units, maintaining effective distribution throughout the room for an utterly immersive audio experience.

The Quad Lite Plus speaker system satellites and centre speaker are complemented perfectly by the new active subwoofer. Amazingly powerful despite its diminutive size, the sub's attractively compact cabinet packs in two mechanically opposed bass drivers with 150mm Duo Tri-Lam cones - a composite cone structure formed from one layer of bi-directionally woven carbon fibre sandwiched between two layers of bi-directionally woven glass fibre. These exceptionally light yet strong cones ensure minimal energy loss and, combined with dual-wound voice coils and an integral 200W RMS (450W peak) amplifier, deliver bass that is deep, taut and agile, with extremely low distortion and a smooth upper bass response that blends seamlessly with the main speakers.
Based on the multi award winning Quad Lite speaker package
Available in High-Gloss Black, High-Gloss White or High-Gloss Ruby Red
Can be purchased individually or as a 2.1, 5.1 or 7.1 speaker package
Thông số kỹ thuật của dòng âm thanh hi-fi Quad Lite 5.1 System Package
| | |
| --- | --- |
| Sub frequency response | 35Hz to 120Hz |
| Integrated sub amplifier | 200w RMS (450w peak) |
| Bass Driver | 150mm Duo-Tri Lam |
| Mid range driver | 100mm Woven Kevlar |
| Tweeter Driver | 25mm Fabric Dome |
| Recommended Amp Power | 20-100 watts |
| Satellite Frquency Response | 100Hz to 20kHz |
| Nominal Impedance | 8 Ohms |
| Sensitivity | 85dB Satellite / 86dB Centre |
>>Có thể bạn quan tâm thêm Loa Hi-fi : Klipsch The Sixes hàng chính hãng 100% đang được bán chạy nhất tại HuyLanAnhAudio.