Những điểm nổi bật của loa hi-fi Yamaha NS-2HX
Yamaha's NS-2HX has been designed specifically for home theater applications. The bookshelf speaker is a bass-reflex design that can be used for main or effect channels and incorporates a 5" white spruce diaphragm cone woofer and a 1-1/8" aluminum dome tweeter. For improved imaging, the tweeter utilizes a waveguide horn.
WAVEGUIDE HORN
Unlike most homes, movie theaters use sound absorbing materials on walls and ceilings. The result is that the sound reaching your ears is the sound wave produced by the speakers rather than reflected off the walls. Yamaha has created wave guides that greatly reduce reflected sound and increase the proportion of directly generated sound waves reaching your ears. The result is a clear and precise sense of sound direction and placement.
DIE-CAST ALUMINUM HORN AND WHITE SPRUCE DIAPHRAGM
Yamaha engineers considered many materials for horn and driver diaphragm construction. Ultimately, die-cast aluminum was selected for the horn because it provided dialogue clarity with nuanced sound. Canadian White Spruce was chosen for the diaphragm material because it was found to provide the finest accuracy, response speed, and depth - three elements essential to ideal home theater sound.
DIE-CAST ALUMINUM FRAMES AND EDGE-WOUND VOICE COILS
Other features that contribute to the superb performance of the NS-2HX are the die-cast aluminum driver frames that have three to five times the flex strength of conventional metal or plastic frames and the edge-wound rectangular voice coils that are significantly more efficient than standard, round, voice coil wire.
MAGNETIC SHIELDING
The speaker is magnetically shielded, so it can be placed on a TV or video monitor without degrading the picture via stray magnetic fields.
SHORT LEADS AND DIRECT WIRING
Similar to Yamaha's ToP-ART amplifiers, the HX family of speakers utilizes the best internal components, short leads, and direct wiring to achieve the purest signal transmission within the speaker cabinet itself.
BI-WIRING CAPABILITY
To further maintain signal purity, Yamaha provides bi-wiring capability to the HX series speakers. There are separate +/- terminals for the woofer(s) and other driver(s). The separation reduces modulation distortion and better sound quality.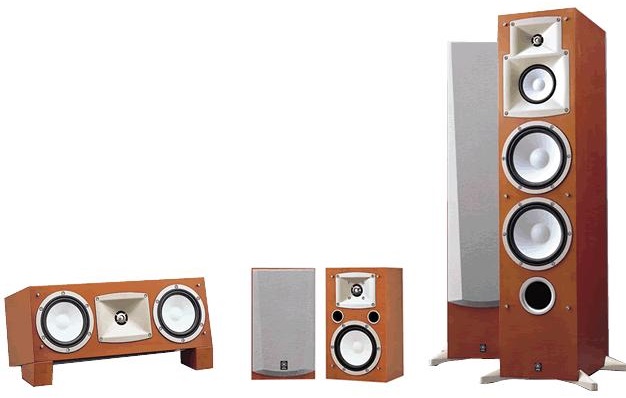 PERFORMANCE ENHANCED BY A HANDSOME CABINET
The HX series speakers are enclosed in a natural wood cabinet with mitered corners to provide solid construction with minimal sound diffraction. The Canadian Maple veneer has an open-pore finish, similar to Yamaha's famous pianos.
NEW GRILLE DESIGN
New grille design and satin grille cloth provide an attractive and acoustically transparent protective cover for the drivers.
Features
Versatile design that can be used widely for front, surround and surround back
WSD adopted 13 cm Woofer + 3 cm 2 way system with aluminum dome tweeter
Wave guide horn
Supports 50 kHz playback
Gold plating finish for bi-wire ring Large speaker terminal
Thông số kỹ thuật của dòng âm thanh hi-fi Yamaha NS-2HX
| | |
| --- | --- |
| Model | 2 way bass reflex type (magnetic shield) |
| Speaker unit | 13cm cone type Woofer, 3cm dome type tweeter |
| Playback frequency band | 60 Hz to 50 kHz (-10 dB) |
| Impedance | 6 Ω |
| Allowable input | 60 W |
| Maximum input | 200 W |
| Output sound pressure level | 90 dB / 2.83 V, 1 m |
| Crossover frequency | 2.5 kHz |
| Dimensions (W x H x D) | 186 W × 318 H × 189 D mm |
| Weight | 6.0 kg |
| accessories | Speaker cable (10 m) |
>>Có thể bạn quan tâm thêm dòng âm thanh hi-fi chất lượng tốt: Yamaha NS - 225F