Pioneer VSX-831
With its six HDMI ports, the VSX-831 also has sufficient connection reserves for ambitious home theatres. Certainly not all playback devices will match the new UltraHD standard but might provide "only" normal FULL HD. For ease of use and the optimal use of suitable displays, the VSX-831 is therefore equipped with a quality video scaler which can convert full HD to 4K and also output the redesigned GUI user interface in this resolution. Sure, HD sound formats such as dts ES or Dolby TrueHD are also supported – the VSX-831 uses their potential through its new 32bit/384kHz DAC better still than previous models in this class.
Digital music delicacies are not only served over HDMI or S/PDIF, but also quite state of the art via network – either by cable or by built-in Dual Band Wi-Fi, and in DLNA streaming in full Studio Master resolution (DSD up to 5.6MHz, PCM up to 192/24). Even in the streaming services, quality defines all the signals. In addition to the popular Spotify Connect, the VSX-831 now also supports Deezer and Tidal, who offer subscriptions at full CD resolution.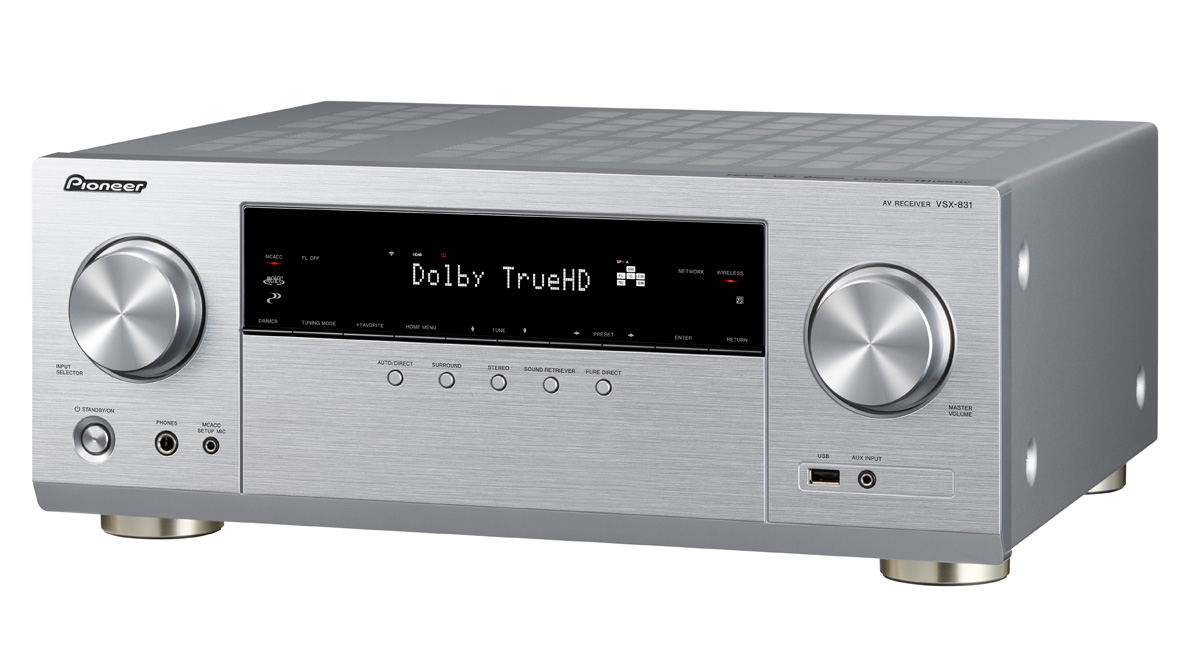 On the other hand, whoever prefers to stream directly from their smart phone to the system can simply choose the option that works best at that point, with the compliments of AirPlay, Google Cast and not least the built-in Bluetooth receiver. Designed for maximum openness, nothing stands in the way of the VSX-831 providing listening pleasure.
FEEL THE POWER OF THE MUSIC
Pioneer upgraded the VSX-831 with a robust 5.2-channel receiver featuring a 140 watt/channel (6 ohms, 1 kHz, THD 1.0 %, 1ch Driven) to ensure you have the ultimate musical experience.

AMP UP THE LOW END
As an innovative solution for phase lag between the subwoofer and main L+R speakers, Phase Control compensates for delayed bass to improve sound synchronization. As a result, it makes LFE more dynamic and achieves clear reproduction of sound in the mid and high frequency bands.
NEW DAC
With a high-grade 384kHz/32bit DAC (digital to analog convert AK4458) produced by AKM, the VSX-831 delivers clear, delicate audio reproduction provided by the unique digital filter that achieves extremely low distortion.
MCACC®i—THE IDEAL ACOUSTIC ENVIRONMENT FOR SURROUND SOUND
Pioneer's MCACC (Multi-Channel Acoustic Calibration System), helps you create the optimum acoustic environment in any room in the house. Developed with the expertise of professional recording studios, MCACC lets you create the ideal acoustic environment. With a custom microphone, the system automatically compensates for differences in speaker size, level and distance, and equalizes response. Whether you're watching the latest Hollywood blockbuster or enjoying high-resolution music, MCACC will make sure your home theater sounds its best.

JOIN THE WIRELESS REVOLUTION
Built-in Dual Band Wi-Fi and Bluetooth wireless technology
The VSX-831 lets you enjoy music wirelessly from iPhone®, BlackBerry®, AndroidTM, PC, laptop or any other compatible sources via built-in Wi-Fi and Bluetooth technology. With two antennas providing Dual Band Wi-Fi (2.4GHz and 5GHz), you have a much greater network range and throughput.
Google Cast
Included for the very first time in a Pioneer AV Receiver, the VSX-831 will feature Google Cast, the underlying technology behind Chromecast. Use your mobile device to play back your favorite music, radio or podcasts through the VSX-831---controlling the audio from anywhere in the house by using Cast-enabled apps available for iPhone, iPad, Android phones and tablets, Mac and Windows PCs and Chromebook.
Multi-room Audio
The VSX-831 will support FireConnect™ Powered by Blackfire with a future firmware update. FireConnect is a stable wireless protocol that streams audio from a compatible Pioneer AV Receiver to a compatible Pioneer wireless speaker. Enjoy Bluetooth audio, front USB audio files and internet radio from the FireConnect compatible Pioneer AV receiver to an optional FireConnect compatible Pioneer wireless speaker(s)** located in another room(s).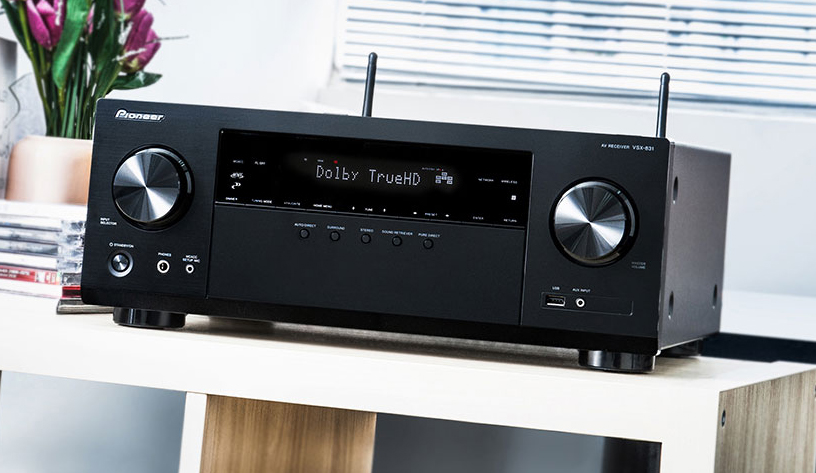 ULTRAHD (4K) AND HDR COMPATIBILITY
The VSX-831 supports full bandwidth HDMI 4K/60p/4:4:4 24-bit video signal transmission with HDCP 2.2 (High-bandwidth Digital Copy Protection) technology, ensuring compatibility with the many upcoming UltraHD (4K) sources and televisions sets, ready for the next generation HDR (High Dynamic Range) and BT.2020 video standards. Super Resolution' Ultra-high-resolution 4K upscaling technologies have been incorporated to upscale 'standard' HD-quality content to the quality of a 4K video signal.
SUPPORT FOR THE LATEST CODECS
Hi-Res Audio Support
Now that the Hi-Res audio revolution is becoming more mainstream, the VSX-831 now supports the emerging standards including: 192kHz / 24-bit high-resolution FLAC, WAV, AIFF and Apple lossless file formats as well as DSD (2.8/5.6MHz) *8 files.
Uncompressed HD audio
VSX-831 supports a wide range of high-definition audio formats including Dolby® TrueHD® and DTS-HD® to ensure you get the audio experience the way the artist intended.
Specification
POWER
Amplifier Design

Discrete Direct Energy.

Channels

5.2.

Power Output: Watts per Channel (20Hz-20kHz,.08%THD@8ohm 2ch Driven)

80 Watts.

Power Output: Watts per Channel (1kHz,1%THD@6ohm 1ch Driven)

140 Watts.

Estimated Power Consumption/Standby with HDMI Control off

380 W/0.1 W (standby).

HANDHELD AND INTERNET
AirPlay

Yes.

Made for iPhone and iPod

AirPlay Only.

iOS/Android Remote Control APP

iControlAV5.

Google Cast

Yes (with future firmware update).

TIDAL Music Streaming Service Ready

Yes (with future firmware update).

Streaming Audio From PC/Network

Yes.

Pandora Internet Radio

Yes.

Internet Radio

TuneIn Radio.

DECODERS & FORMATS
Digital Core DSP Engine

Cirrus Logic (Quad Core) x1.

Audio DACs

384 kHz/32Bit (AK4458).

Audio Processing

32Bit.

Music File Playback

MP3, WMA, AAC, Apple Lossless*, WAV*, FLAC*, AIFF, DSD via USB and Network (*up to 192kHz/24-bit).

High-Definition Copy Protection (HDCP)

2.2.

Dolby TrueHD

Yes.

Dolby Digital Plus

Yes.

DTS-HD Master Audio

Yes.

HDMI SACD Transfer

Multi-Channel.

SOUNDFIELD CALIBRATION
Phase Control

Yes.

MCACC

Yes.

MCACC Memory

1.

EQ Bands

9-Band.

Symmetric EQ

Yes.

X-Curve

Yes.

Distance Adjustment

0.1 feet.

Auto Subwoofer Crossover

Yes.

LISTENING MODES
Auto Surround

Yes.

Stream Direct

Yes (Direct, Pure Direct).

Advanced Surround

12.

Auto Surround

Yes.

Stream Direct

Yes (Direct, Pure Direct).

Advanced Surround

12

Front Stage Surround Advance

Yes.

AUDIO FEATURES
Advanced Sound Retriever

Yes.

DSD Music File

2ch(2.8MHz / 5.6MHz).

Tone Control

Multi.

Sound Delay (Lip Sync)

500 ms @ 48k/ 400 ms @ 96k/ 200 ms @ 192k.

Bi-Amp

Yes.

VIDEO PROCESSING
4K Ultra HD Pass-Through

Yes.

4K Ultra HD Video Scaler

Yes (1080p to 4K).

3-D Ready

Yes.

Audio Return Channel

Yes.

HDMI Standby Through

Yes with Input Switch / Last Memory.

HDMI 36-bit Deep Color

Yes.

HDMI x.v. Color

Yes.

HDMI to HDMI Video Scaler

4K Ultra HD (for 1080p).

Super Resolution

Yes.

CONNECTIVITY

HDMI Input / Output

7 In (6 Rear, 1 Front) / 1 Out.

Wi-Fi Built-In

Yes (5GHz/2.4GHz).

Bluetooth Built-In

Yes.

Composite A/V Input / Output

2 In.

iPhone / iPod / USB Memory Input

USB Memory.

USB Terminal

Front USB.

Ethernet Input

Yes.

Analog Audio Inputs / Output

3 In.

Digital Audio Inputs / Output

2 In (Optical 1, Coaxial 1).

Pre-Amp Output

0.2 ch.

Headphone Output

Yes.

Front A/V Inputs

USB.

AM/FM Presets

40.

INSTALLATION
On-Screen Display

Icon-based Graphical User Interface (GUI).

Auto Power Down

Yes.

FL Dimmer

Yes.

Function Rename

Yes.

Remote

Yes.

Sleep Timer

Yes.

CONSTRUCTION
Front Panel

Brushed.

Speaker Terminals

5 Large.

Warranty

1 Year Parts & Labor.

DIMENSIONS
W x H x D (inches)
Wi-Fi Antenna's Up

17.1 x 9.8 x 14.3.

W x H x D (inches)

17.1 x 6.8 x 14.6.

Weight
19.8 lbs.