Pioneer VSX-1131
The fact that the VSX-1131 has seven amplifier channels immediately points to the major difference to the smaller models. With the VSX-1131 the serious home cineaste can also operate a Dolby Atmos loudspeaker set with its additional ceiling speakers or "Atmos Enabled Speakers" and so get the first truly enveloping sound in all three spatial dimensions. dts:X as a second object-based surround format follows in a free firmware upgrade. With 160 watts per channel, the amplifier output meets higher demands, similar to the seven HDMI ports, one of which is located on the front panel. This allows you to quickly connect external players without much hassle. The VSX-1131 supports 4K UltraHD with HDR on every HDMI port, while it can convert Full HD into 4K using its powerful video scalers.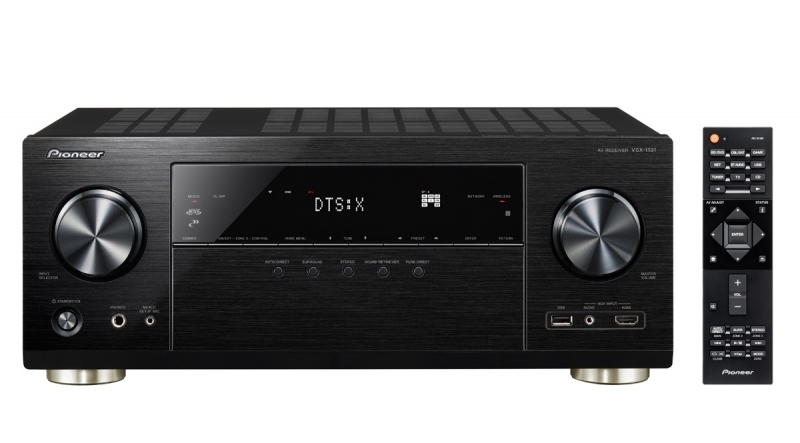 Music lovers actually no longer need to connect a player to the VSX-1131, because the receiver already has all the various streaming options installed. With Spotify, Tidal and Deezer, all the payment streaming services are supported; with the latter two even providing full CD quality. TuneIn adds thousands of web radio stations, while AirPlay, Google Play and Bluetooth provide matching wireless access to every tablet or smart phone. And if you're planning a multi-room system in the near future, you'll be happy to know that the VSX-1131 is already compatible with FireConnect and so able to feed all connected sources into a corresponding system.
DOLBY ATMOS, DTS:X
This device supports the newest Dolby Atmos and (after a free update) DTS:X surround-sound formats. With their object-oriented designs these formats facilitate a perfect wraparound sound with precisely placed effects and realistic movement sequences in all three spatial axes. In this respect loudspeaker arrangements of up to 11.2 channels are supported.
STREAMING AND AIRPLAY
As a network player with integrated WLAN, this device plays music files in all of the relevant formats from the home network including high-resolution DSD and FLAC files, naturally gapless and with a convenient app control. Tablets and Smartphones can be seamlessly and wirelessly integrated via AirPlay or without a network via Bluetooth.
HIGH-RESOLUTION SOUND – ON MULTIPLE CHANNELS TOO!
Experience audiophile sounds in full Sound Master resolution, with HighRes downloads of your favourite albums in WAV, ALAC, FLAC and AIFF formats as well as in DSD. For the ultimate realism there is HiRes audio, now also with multiple channels in WAV and FLAC formats.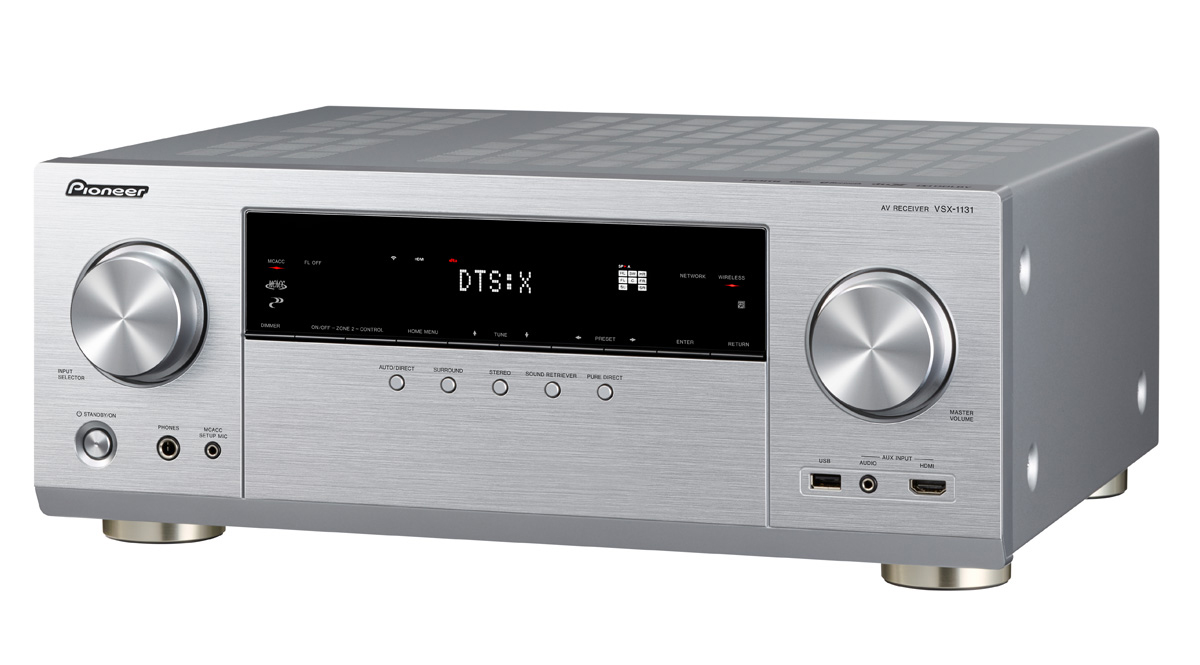 MUSIC STREAMING WITH GOOGLE CAST
Google Cast uses the same technology as Chromecast and enables uncomplicated music streaming to compatible Pioneer devices. Google Cast-capable apps can be used with Android tablets & smart phones, iPhone, iPad, Chromebook, Mac or Windows computers.
MULTI-ROOM AUDIO WITH FIRECONNECT
The new Pioneer AV receivers with FireConnect enable the concurrent playback of every audio source connected to the AV receiver via an optional wireless speaker. Conveniently control the multiroom playback with track selection and volume via smart phone and tablet.
SPOTIFY, DEEZER & TIDAL
Enjoy maximum musical variety – this AV receiver natively supports Spotify, Deezer and TIDAL. With the current largest music services, you have direct access to millions of songs in the best CD and HD quality.
UNLIMITED CHOICE OF RADIO STATIONS
With more than 100,000 channels, TuneIn has the largest selection of free Internet radio stations covering sports, music, talk and news from around the world.
FULL SYSTEM CONTROL, ONE APP
With the convenient "iControlAV5" app you can then easily control all important receiver functions via smart phone or tablet. Thanks to the now built-in AVNavigators you no longer need to install any software.
MCACC FOR DOLBY ATMOS & DTS:X
This AV receiver for the first time enables precise acoustic room calibration for object-based audio formats. Not only the horizontal but also the vertical axis is included in the complex calculation of the room acoustics for the perfect calibration of amplifiers and speakers.
NEW GUI AND REMOTE CONTROL
The GUI (Graphical User Interface) of the receiver has been completely overhauled. Simplified structures, a modern font and new graphics enable faster, intuitive navigation and improved interaction with the user.
4K WITH HDR AND BT.2020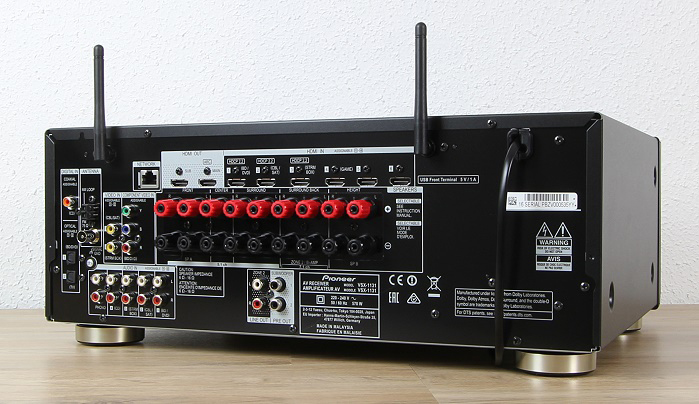 Experience four times the HD resolution with 4K UltraHD in the best possible quality according to the most current BT.2020 standard for UHDTV. The built-in video optimisation scales to 4K resolution at up to 60p and the high dynamic range produces an extremely high-contrast, sharp image.
DUAL BAND WIFI & BLUETOOTH BUILT-IN
The built-in Wi-Fi is dual band, supporting both 5 GHz and 2.4 GHz frequency channels, for steady and uninterrupted streaming even of Hi-Res Audio files. Easily stream songs from compatible devices using the built-in Bluetooth wireless technology. This AV receiver features A2DP and Audio/Video Remote Control Profile (AVRCP). Supported codecs include SBC and AAC.
Specification
Amplifier
DSP:

Cirrus Logic Quad Core.

Power Output:

100 W per channel at 20 Hz to 20 kHz, 0.08% THD @ 8 Ohm, 2-channel driven.




170 W per channel at 1 kHz, 1% THD @ 6 Ohm, 1-channel driven.

No. of Channels:

7.2.

Amplification:

Discrete Direct Energy.

Audio Processing
Audio DAC:

384 kHz / 32-bit (AK4458).

Dolby:

Dolby Atmos, Dolby Surround, Dolby True HD, Dolby Digital Plus.

DTS:

DTS-HD Master Audio, DTS-HD High Resolution Audio, DTS 96/24, DTS-ES, DTS-HD Express.




DTS:X and DTS Neural:X compatible via future firmware update.

File Support:

MP3, WMA, AAC, Apple Lossless (up to 192 kHz/24-bit), WAV (up to 192 kHz/24-bit), FLAC (up to 192 kHz/24-bit), AIFF, and DSD via USB and Network.

Phase Control:

Yes.

Distance Adjustment:

1.2" (3.0 cm).

Listening Mode:

Auto Surround.




Stream Direct (Direct, Pure Direct).




Advanced Surround: 12.




Front Stage Surround Advance.

Sound Enhancement:

Advanced Sound Retriever.

Surround Modes:

Classical, Unplugged, Entertainment Show, Drama, Advanced Game, Action, Rock/Pop, Sports, Extended Stereo, Extended Mono, Front Stage Surround, Auto Surround.

Lip Sync:

500 ms @ 48k.




400 ms @ 96k.




200 ms @ 192k.

HDMI SACD/DSD Support:

Multi-channel.

ARC (Audio Return Channel):

Yes.

Equalization:

9-Band, symmetric.

Video Processing
Pass-Through:

4K, 60p, 4:4:4, 24-bit.




4K, 24p, 4:4:4, 36-bit.




4K, 60p, 4:2:0, 36-bit.

Upscaling:

1080p to 4K.

Stand-By Usage:

HDMI pass-through with input switch / last memory.

3D Support:

3D ready.

Deep Color / x.v. Color Support:

Yes / Yes.

Convenience
AM/FM Tuner:

Yes/Yes.

AM/FM Presets:

40.

Remote Control:

Yes.

OSD:

Icon-based Graphical User Interface (GUI).

Auto Power Standby:

Yes.

Dimmer:

FL Dimmer.

Sleep Timer:

Yes.

Connectors
Analog Inputs:

5 x Stereo RCA (1 phono-compatible).




2 x RCA composite video.




1 x RCA component video.

Digital Inputs:

7 x HDMI (1 front).




1 x Digital coaxial.




2 x Optical TOSLINK.




1 x USB (front).

Analog Outputs:

1 x Zone 2 stereo RCA pre-out.




1 x 1/4" (6.35 mm) headphone (front).

Digital Outputs:

2 x HDMI (1 with ARC).

Speaker Connectors:

9 x Binding post pairs.




2 x RCA subwoofer pre-out.

Other Ports:

1 x AM antenna in.




1 x FM antenna in.




1 x MCACC setup mic in (front).




1 x Ethernet in.

Wireless
Bluetooth Version:

4.1.

Bluetooth Profiles:

A2DP / AVRCP.

Other Ports:

1 x AM antenna in.




1 x FM antenna in.




1 x MCACC setup mic in (front).




1 x Ethernet in.

Bluetooth Version:

4.1.

Bluetooth Profiles:

A2DP / AVRCP.

Bluetooth Codecs:

SBC / AAC.

AirPlay:

Yes.

Wi-Fi Bands:

2.4 / 5 GHz.

General
Front Panel Construction:

Brushed.

Power Requirements:

120 VAC, 60 Hz.

Power Consumption:

Typical: ≤580 W.




Standby: 0.1 W.

Dimensions (W x H x D):

17.1 x 9.8 x 14.3" (43.4 x 24.9 x 36.3 cm) with antennas up.




17.1 x 6.8 x 14.6" (43.4 x 17.3 x 37.1 cm) with antennas down.

Weight:

22 lb (10 kg).