Những điểm nổi bật của Amplifiers Hi-End Manley Stingray II:
The STINGRAY II is the next evolution from our acclaimed Stingray Integrated Amplifier, legendary in the hifi world since it first swam from our labs in 1997. Originally conceived with particular attention paid to optimal component placement for the purity and symmetry of the signal path layout, the Stingray quickly became one of our best-selling products. The Stingray II retains the same basic tube circuitry and marvelous output transformers as the original with some important improvements:
>>Xem thêm: Audionote kassai silver 300B (tube upgrade + $), Luxman L-507u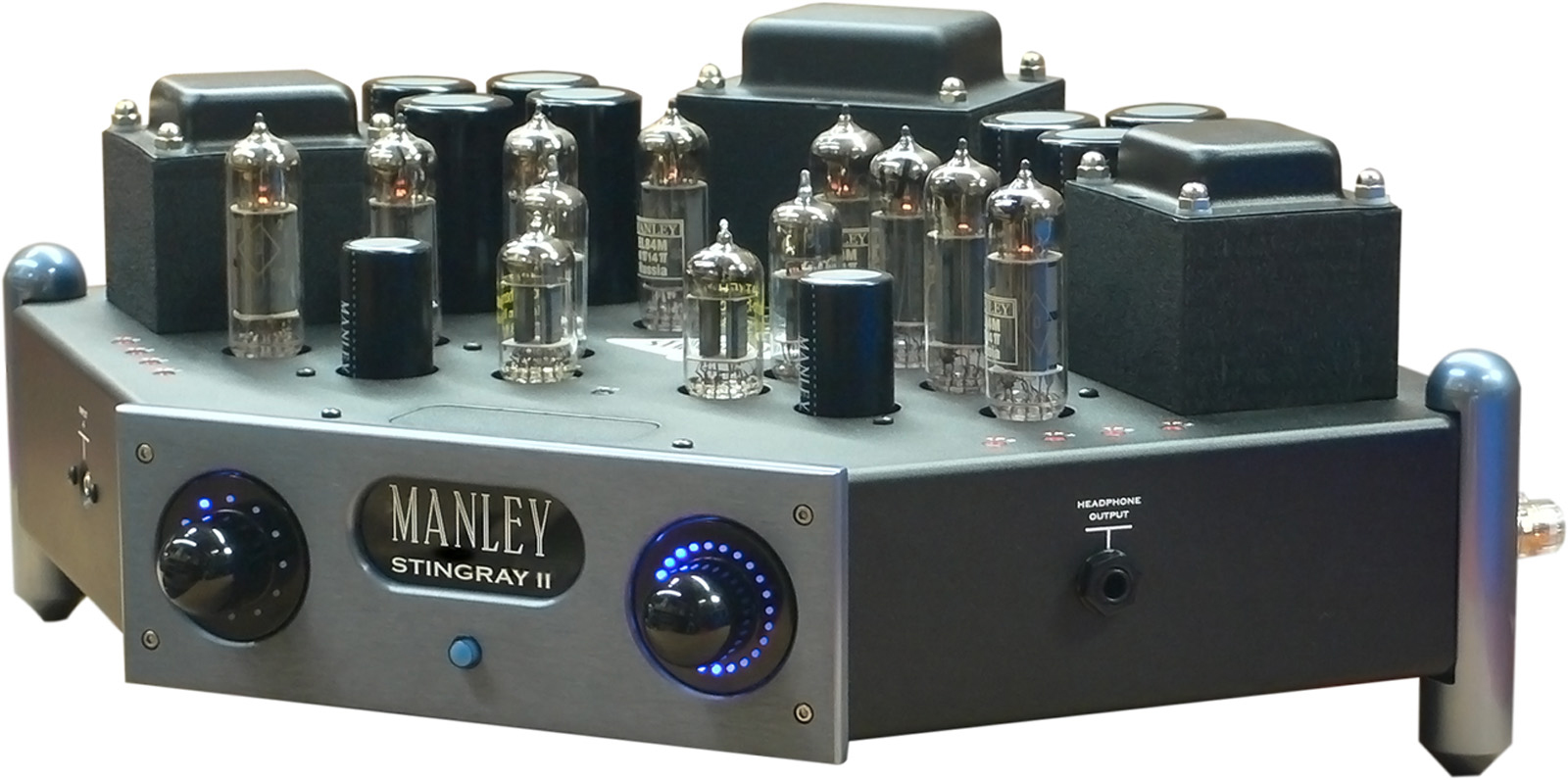 The high voltage tube energy storage has been increased vastly resulting in even more solid and coherent bass control and impact.
A headphone jack has been added to the right side facia. This jack re-routes the output from the speaker binding posts and mutes the Subwoofer output feed. This makes the Stingray II a fabulous headphone amplifier!
The 4th input source is an 1/8" (3.5mm) TRS mini jack for convenient hookup with portable devices and computers on the left front facia.
The Remote Control works with both Radio Frequency and InfraRed technologies. Using the remote in RF mode gives freedom from having to "point and shoot." The RF remote is omnidirectional and works through walls and cabinets. IR capability is included for those with Universal Learning Remote Controls for consolidated integration into existing systems. The volume control, balance adjust, input switching, and display options are all on the RF/IR Remote Control. Additionally user can perform the MUTE, DIM, INSERT and STANDBY commands with the Remote Control.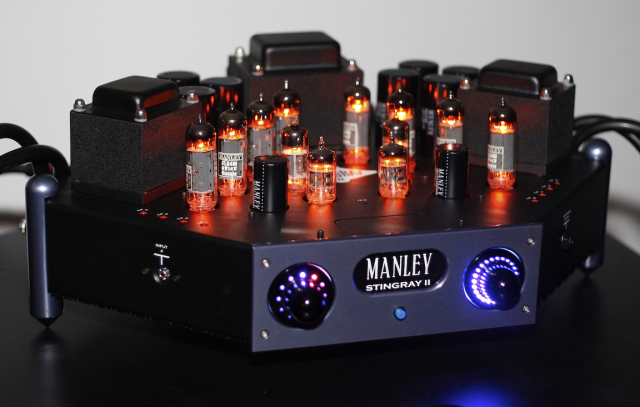 Each INPUT can be individually level trimmed to match and to optimize system gain staging of various input devices.
The fancy blue LED displays surrounding the INPUT and VOLUME encoder knobs can be dimmed down or turned off entirely, after a user-settable time period, or a "screen-saver" random light sequence can be selected. Speed and intensity of the "Starlight" mode can be tweaked to taste.
All custom user settings are hard written into memory when the unit is put into STANDBY mode and thus retained if power is later interrupted.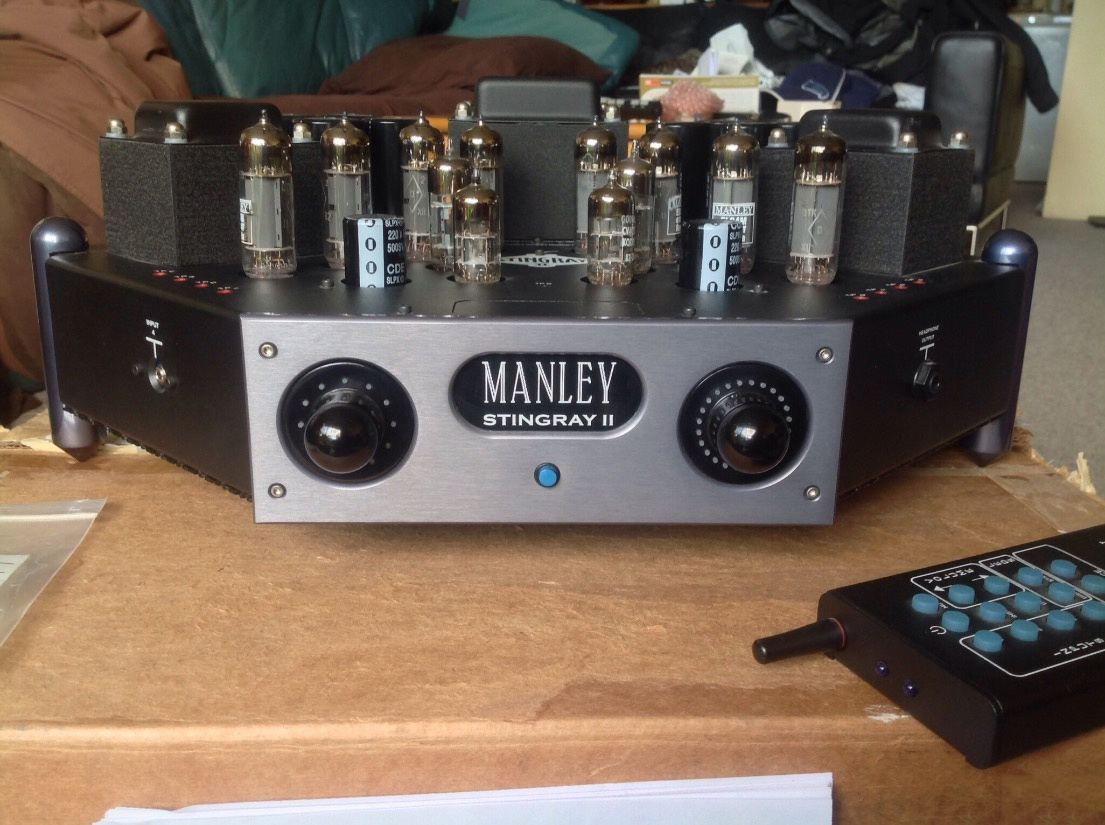 From our most advanced evolution of the Stingray, expect even more coherent bass definition and solid brawn from the larger high voltage energy storage. The EL84 output stage can be switched between 20 Watts of TRIODE power or 40 Watts of Ultra-Linear mode push-pull operation. The headphone output takes advantage of the entire amplifier and every ounce of attention to detail we have poured into this fantastic design. RF remote control included.
Thông số kỹ thuật dòng âm thanh hi-end Amplifiers Hi-End Manley Stingray II:
3 x Stereo Line RCA Inputs

1 x Stereo Line 1/8" TRS mini-jack Input

TRIODE - UL Output Stage Mode Switching

RECORDING OUT

SUBWOOFER OUT

TAPE LOOP (Insert) with Bypass switch

1/4" Headphone OUTPUT (mutes speakers and subwoofer output when deployed)

Logic controlled Volume and Balance functions

All-Vacuum Tube Lo-feedback Stereo Integrated Design

Output Tubes: 8 x EL84 Ships with Russian NOS EL84M (aka 6Pi14Pi-EB)

Driver Tubes: 2 x 6414 Ships with GE or RAYTHEON JAN NOS USA or 6414W

Input Tubes: 2 x 12AT7EH Ships with: 12AT7EH large plate Electro-Harmonix Russian
USING OTHER TUBES
Maximum Output Power UL mode: 32 Watts x 2 channels 1.5% THD @ 1kHz into 5 Ohms

Maximum Output Power TRIODE mode: 18 Watts x 2 channels 1.5% THD @ 1kHz into 5 Ohms

Frequency Response: 15 Hz - 58 kHz, -1dB

Gain: 35 dB at max Volume

Input Sensitivity UL Full Power: 210 mV in = 32 watts out into 5 Ohms with volume control at maximum

Input Sensitivity Triode: 41mV in = 1W into 5 Ohms with volume control at 20dB gain setting

Input Sensitivity UL: 35mV in = 1W into 5 Ohms with volume control at 20dB gain setting

Crosstalk: -72dB: See Chart

S/N Ratio: typically 72 dB A-WGT, 1W output, 20dB gain, Source Z = shorted input

THD+N Ratio: typically 64 db at 1W output, Bandwidth 22Hz-22kHz, Source = 1kHz Sine wave

Input Impedance: 12 kOhm nominal

Optimum Speaker Load: 5 Ohms

Speaker Terminal Output Impedance at 20Hz: 2.36 Ohms




at 1KHz: 2 Ohms




at 20KHz: 1.83 Ohms

Damping Factor: 2.4

Headphone Jack Output Impedance: 53 Ohms

Scratch Factor: Use pennies under pointed feet to avoid marring cabinetry. Try quarters if you are in upper tax brackets. The bargain performer would be nickels. Paper currency does not function as well. Euro coins work 1.54 times better.

Remote Control Type: RF (radio frequency) and IR (infrared), user selectable

Volume Control: Cirrus Digital Level Control System, controlled by Grayhill Rotary Encoders

Volume Control Range: 102dB in 1dB steps turning slowly, with larger steps as rate of turn increases

SLEEP timer: 15, 30, 45, 60 minutes

Power Consumption (Standby): 6W

Power Consumption Idle: 198W&a