Những điểm nổi bật của dòng âm thanh hi-end Hovland HP 100:
The Hovland HP-100 is a full-featured vacuum tube stereo preamplifier, available as a line stage-only (14 dB gain) or with an integral phono stage for either high or low output phono cartridges. Years of development and refinement have resulted in unique minimalist circuit topology to produce an accurate yet seductive soundscape. The HP-100 fully involves the listener in the recording—as transient details, imaging, and most importantly, musical emotion, are startlingly revealed.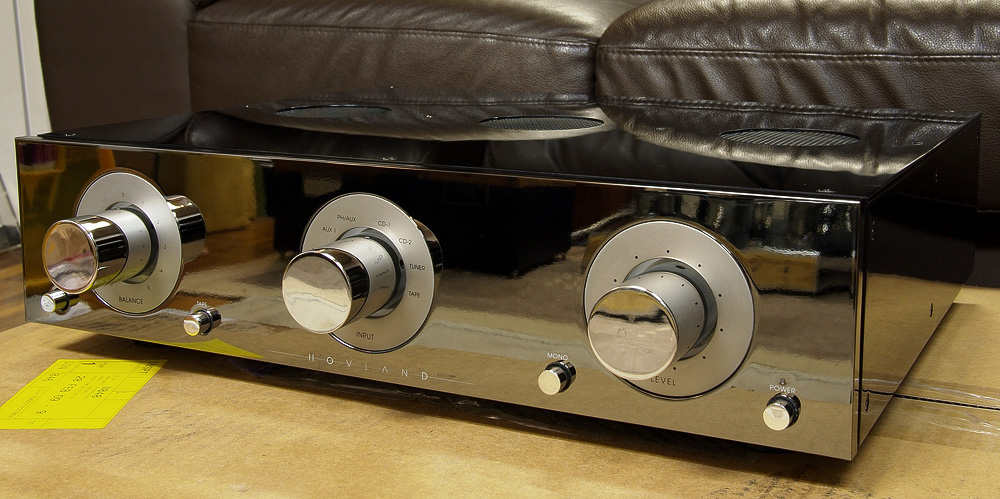 The HP-100 uses the best quality passive components available, including resistors from Caddock and Holco, as well as Hovland Company's acclaimed MusiCap® film-and-foil capacitors. A custom-made 31-position silver contact stereo level attenuator switch, with 2 dB steps, ensures both transparency and fine user control. Wiring is Hovland Generation 3 shielded silver interconnect, and all RCA jacks are hard gold-plated with collet-type female pin sockets.
Compatibility and flexibility are inherent in the HP-100. An extraordinarily quiet and spacious phono section can be added to line stage-only models at any time—by the dealer—with no soldering required. Users of fine cartridges with rated outputs as low as 0.7 millivolts should be pleased with the 46 dB of gain provided by the active phono stage. Those with lower output moving-coil cartridges will appreciate a configuration which includes the highly transparent MC-10 moving coil step-up transformer (additional 20 dB gain). The line stage is capable of driving long amplifier connecting cables with ease, and the gain stages use selected versions of the readily available 12AX7 tube type. Worldwide line voltage adaptability is assured through internal adjustable power supply taps.
A rigid monococque-type chassis isolates the three main circuit boards, preventing interaction between phono, line, and power supply circuits. The robust power supply incorporates proprietary transformers and filter capacitors, plus several design innovations that contribute to the HP-100's compelling dynamics and proper rhythmic pace. A pop-free, timed muting protects other system components when the preamplifier is turned on or off.
Other carefully executed control features include: eight selectable inputs plus separate Tape Monitor (9 inputs total); a stepped balance switch with 1 dB steps (out of circuit in neutral position); Stereo/Mono switch; and mute switch. An exclusive, multi-layered polished finish graces the front panel, setting off the luxurious chromed control knobs and buttons. The flush-fit styling is further complemented by heavy guage, polished and anodized casework.
Thông số kỹ thuật dòng âm thanh hi-end Hovland HP 100:
Line Stage

Input impedance:

100 kΩ

Gain:

14 dB

Frequency response:

+0/-.25 dB, 10 Hz - 25 kHz

THID:

< .1 % at rated output of 3 volts

S/N ratio:

80 dB below 3 volts out, wideband

Phono Stage (46 dB gain)

Minimum input voltage:

approx. 0.7 millivolt @ 1000 Hz

Input impedance:

1 meg ohm

Frequency response:

±0.15 dB, 25 Hz - 25 kHz

S/N ratio:

60 dB below 2 mv input wideband

75 dB below 2 mv input w/ 400 Hz high-pass filter

MC Phono Stage with MC-7 Transformer (63 dB gain)

Maximum input voltage:

approx. 1.0 millivolt @ 1000 Hz

Input impedance:

approx. 530 Ω (provision for reduced loading)

Tube complement:

Line (2)-12AX7, (1)-12AU7 Phono (2)-12AX7, (1)-12AT7

Power requirements:

0.5 A

Casework dimensions:

18.25" W x 17.38" D x 5.25" H (with feet)

Warranty:

Three years parts and labor (tubes - 90 days)