Wharfedale Pro MP 2800
The new MP2800 Series of power amplifiers from Wharfedale Professional are the latest addition to the expanding range of Wharfedale Professional electronics. Built to last, the MP amplifiers are designed to withstand the rigours of life on the road and last a lifetime in professional installation.
Sonic accuracy and durability are the most important features of your power amplifier. You need to be able to rely on your amplifier to perform time after time, giving the best reproduction of sound again and again. You can be sure of this with your MP Series power amplifier from Wharfedale Professional. Not only have we made sure the mechanical engineering is the best, also using an all steel chassis, but we have taken extra care with every single component that we have chosen to go into the unit. When we are satisfied, we assemble the amplifiers in our own factory. After passing a vigorous QC process using the most up to date test equipment, the amplifier is then worthy of our guarantee.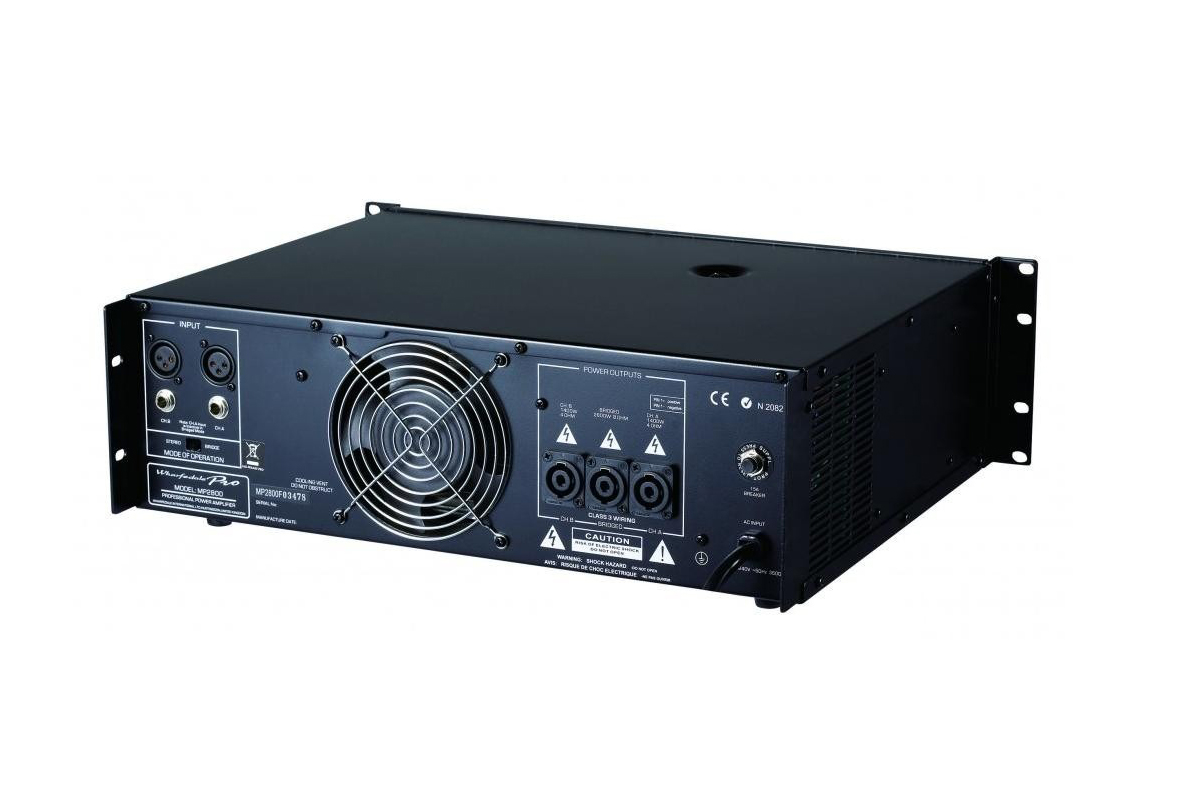 The MP Series of power amplifiers feature a continuously variable speed fan for optimum cooling. The airflow generated over the copper plated heatsink achieves massive heat dissipation, keeping the output devices evenly cooled throughout operation. The MP Series also features sophisticated protection circuitry - protecting both the amplifier and the speakers connected to it if a fault occurs. The thermal overload protection mutes the input signal when it senses the amplifier is running at unsafe temperatures . The short circuit protection keeps the output devices operating at a safe level even though the circuit itself allows high peak currents. The amplifier also features a Soft Start Protection circuit to avoid 'pops' in power up and power down situations.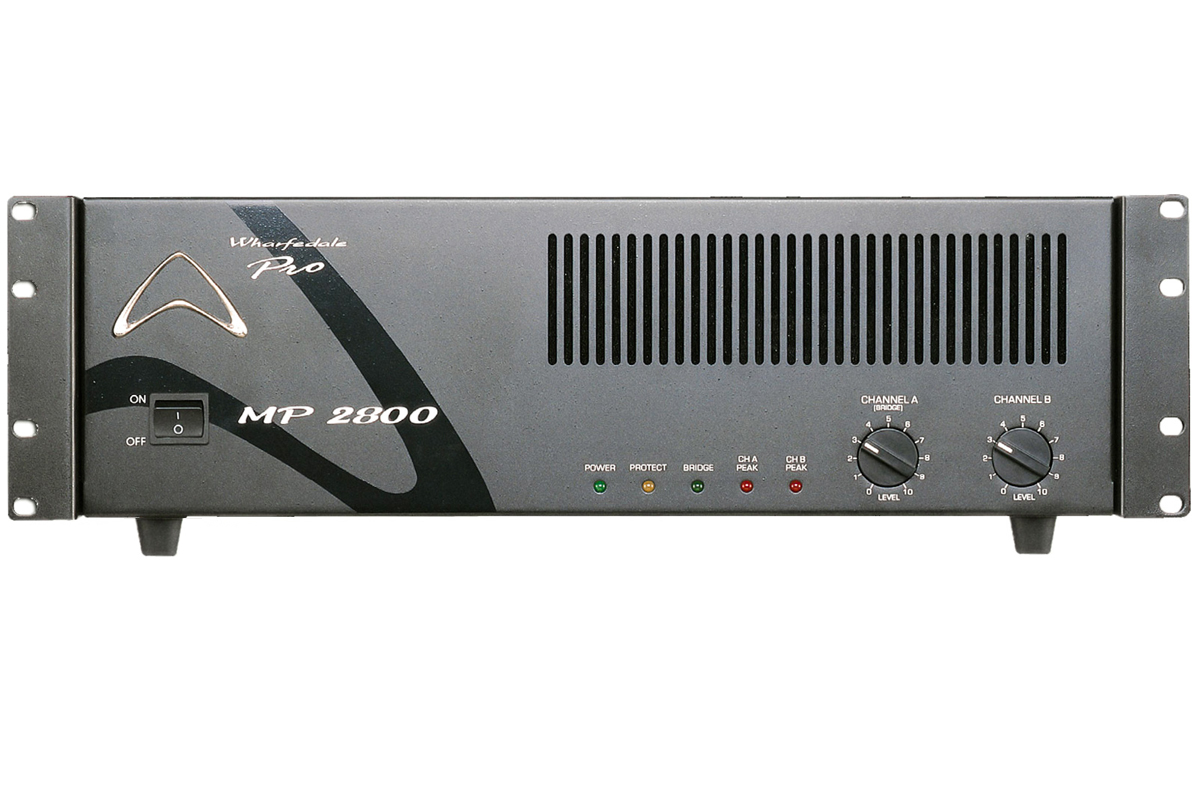 The amplifiers both feature the option of Binding Post or Speakon output connectors, as well as XLR and 1/4" (6.3mm) TRS balanced input connectors to suit most applications. Comprehensive front panel LED indicators for performance monitoring include Power, Protect and Bridge, as well as Peak level indicators for Channel A and Channel B. The position of the gain control knobs on the front of the unit allow for easy access. The Power On/Off switch is also situated on the front panel for ease of use.
Key Features
8 Ohms x 2: 800Watts RMS

4 Ohms x 2: 1400Watts RMS

2 Ohms x 2: 1500Watts RMS

8 Ohms Bridged: 2800Watts RMS

4 Ohms Bridged: 3000Watts RMS

Class AB Technology

Suitable for touring, rental and installation

3 x Speakon and bare wire outputs

Peak and protect LEDs

Rear panel ground lift switch

All steel construction

Continuously variable speed fan

Stereo and Bridge modes

2 x XLR, 2 x 6.3mm jack inputs
Thông số kỹ thuật của sản phẩm Wharfedale Pro MP 2800:
| | |
| --- | --- |
| MODEL | MP2800 |
| POWER: PER CHANNEL (1% THD) | |
| Stereo Mode | |
| 8 Ohms | 800Watts |
| 4 Ohms | 1400Watts |
| 2 Ohms | 1500Watts |
| Bridged Mono Mode | |
| 8 Ohms | 2800Watts |
| 4 Ohms | 3000Watts |
| INPUT SENSITIVITY & IMPEDANCE | |
| AT 4 Ohms | 0.775v |
| UNBALANCED 1/4" Jack | 10k Ohms |
| BALANCED XLR | 20k Ohms |
| VOLTAGE GAIN | 38dB |
| SLEW RATE: 8 ohms FULL SWING | |
| STEREO | >40v/u sec |
| BRIDGED MONO MODE | |
| CHANNEL SEPARATION | 78dB |
| SIGNAL TO NOISE (20Hz-20kHz) | 100dB |
| DISTORTION (SMPTE-1M) | less than 0.05% |
| FREQUENCY RESPONSE | |
| +/-1dB @ 4 Ohms | 20Hz to 20kHz |
| +/-3dB @ 4 Ohms | 5Hz to 50kHz |
| DAMPING FACTOR (8 ohms, 1kHz) | Greater than 400 |
| TOPOLOGY | Class H |
| CONNECTORS | |
| INPUT | XLR & 1/4" TRS |
| OUTPUT | 5 WAY BINDING POSTS & SPEAKON OR SPEAKON |
| CONTROLS | |
| Front | AC Switch, CH1 & CH2 gain knobs |
| Rear | Stereo/Bridge mode switch |
| INDICATORS | Power switch on/off mute, Short circuit, Open circuit, Thermal |
| COOLING | VARIABLE SPEED FAN |
| WEIGHT (GROSS) | 29.5kg / 65lbs |
| WEIGHT (NET) | 28kg / 61.6 lbs |
| DIMENSIONS (H x W x D) mm | 133 x 483 x 355 |
| DIMENSIONS (H x W x D) inches | 5.2 x 19 x 13.9 |