Những đặc điểm nổi bật của loa Hi-Fi Wharfedale Evo2-10:
The 25mm Soft Dome Tweeter: The highest frequencies are handled by a soft dome driver. Our extensive research has proven these are a better choice than metallic based domes that typically add their own character to the treble. A feature of the tweeters, as with the mids, is wide dispersion and very low distortion, again typically less than 1% at 100dBin 1 metre. The unit features a high flux neodymium magnet structure, producing a typical efficiency of 93dB 1W@1m. This unit has a frequency response extending far beyond audible frequencies to around 45kHz.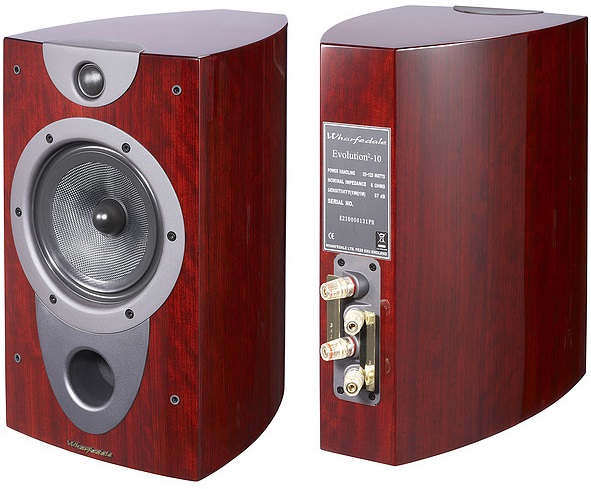 The enclosure of your speaker is finished to a high-quality furniture standard. Real wood veneers are selected and carefully pattern-matched by hand. Over a period of several days a high quality hard lacquer finish is achieved. This involves the application of several coatings of lacquers,each being cut and polished before the next coat is applied. Only through this time-consuming and skilled technique, can we achieve the deep and lustrous finish that is the characteristic hallmark of Wharfedale premium loudspeakers.

Instead of the usual cuboid shape, EVO loudspeaker cabinets feature a beautiful curvaceous design, with a special purpose - to reduce to negligible levels of internal cabinet standing waves and reflections. Skillful engineering in 'MDF' (Medium Density Fibre Board), universally known to be one of the best enclosure materials, has resulted in an ideally shaped, very strong, internally multiple braced, low resonance structure. Parallel-sided tall boxes promote the creation of unwanted acoustic waveforms within the box by the reflection that goes up and down its length. The curved and braced interior of the EVO cabinet prevents this – resulting to a soundstage of unexampled clarity and precision with pinpoint imaging, even frequency distribution and inherently low coloration.

Oversized spikes are included with all the floorstanding models to reduce to an absolute minimum the dissipation of energy through the floors. As well as being a nice aesthetic detail, these serve to improve dynamic attack and more generally improve detail in the bass region. We used heavy duty, gold-plated and screened terminals which can accept 4mm banana plugs or bare wire, if you prefer.
Thông số kỹ thuật của loa hi-fi Wharfedale Evo2-10:
| | |
| --- | --- |
| BassDriver | 6.5"-165mm |
| Mid-range | - |
| Tweeter | 1"-25mm |
| NominalImpedance | 6Ohms* |
| FrequencyResponse+/-3dB | 57Hz-28kHz |
| SPL1W@1m | 87dB |
| Power | 100Watts |
| Distortion - to 300Hz | <7% |
| RecommendedAmp | 30-200W |
| MaxPeakSPL | 109dB |
| SystemFb | 50Hz |
| CrossoverFrequencies | 2.2kHz |
| Dimensions(hxwxd)mm | 380x227x356 |
| NetWeight | 8.1kgx2 |