Những điểm nổi bật của Mono Power Amplifier mbl C15:
MBL have introduced the C15 Mono Power Amplifier to their Corona Line of high-end audio components. It offers a mighty 500-watt (4-ohm) and so should be capable of driving pretty much any loudspeaker with ease. MBL claim that implementation of their LASA-technology (Linear Analog Switching Amplifier) results in a "homogeneous characteristic of THD throughout the frequency range" and that the frequency response is independent of loudspeaker load.
>>Xem thêm: Power-Ampliifiers Hi-End MBL 9008A Mono/Stereo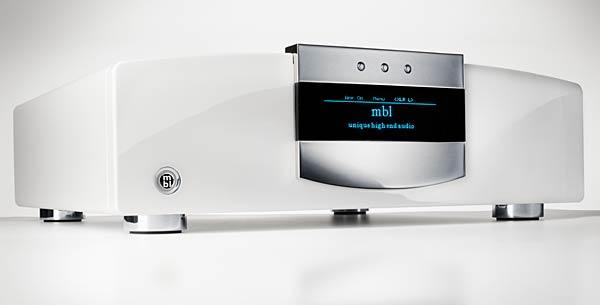 German precision design and execution are evident in the inner-workings of the mbl C15 with all power supplies and transformers not only being screened off by magnetically shielded partitions encapsulated in MU metal, but also electrically isolated. The Amplifier offers both balanced and unbalanced inputs whilst loudspeakers can be wired in Single or Bi-Wired format. The nifty MBL SmartLink network enables other Corona devices to talk with each other via standard Ethernet cables and software updates can be uploaded via the integrated SD card reader.
The Corona C15 certainly looks very different from the high-end norm. There are none of the usual black heatsink fins, as the C15 uses a cool-running class-D output stage. Instead of the ubiquitous rectangular box, this modestly sized amplifier comes in an elegant white- or black-gloss–finished case, its center section finished in gold, or a chrome-like finish MBL calls Palinux. No fasteners are visible. Although its case is made of 4mm-thick aluminum (the vented rear panel is steel), the C15 is surprisingly heavy for a class-D design, at 48.5 lbs. This is due to the use of extensive internal magnetic shielding of mu-metal, an alloy of nickel, iron, copper, and chromium (or molybdenum).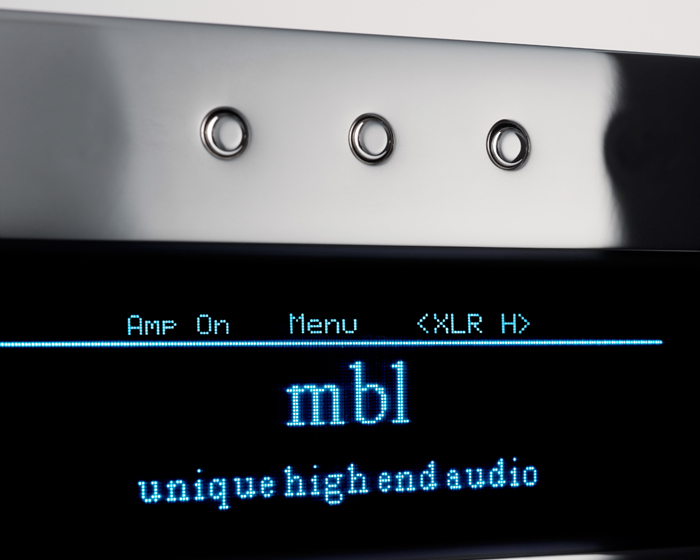 A turquoise, fluorescent, alphanumeric display is set into the 16mm-thick front panel. In conjunction with three small buttons above it, this display allows the user to choose the input, access the setup menu, and switch the C15 in and out of Idle mode. A button at the bottom left of the front panel brings the amplifier out of Standby mode. At the front of the top panel, a circular, 40mm-diameter button bearing the MBL logo and illuminated with a white ring allows the display to be dimmed in three steps or turned off completely.
On the rear panel are RCA and XLR input jacks, two pairs of high-quality binding posts, an SD card slot for firmware updates, a master on/off switch, the IEC AC input, and two RJ45 jacks for MBL's SmartLink, to allow communication among system components. The C15's rated output power is 280W into 8 ohms or 480W into 4 ohms (footnote 2), and its gain can be switched between 20dB balanced, labeled "XLR" on the display; and 26dB balanced or single-ended, respectively indicated by the display as "XLR High" and "RCA."
Thông số kỹ thuật dòng âm thanh hi-end Power-Ampliifiers Hi-End MBL C15 Mono:
General

Weight

22 kg / 48.5 lbs

Dimensions (without cables)

W 45,0 cm / D 44,5 cm / H 14,5 cm

W 17.7 in / D 17.5 in / H 5.7 in

Dimensions with packaging

W 59,0 cm / D 54,0 cm / H 35,5 cm

W 23.2 in / D 21.3 in / H 21.9 in

Line Voltage

230 Vac / 50 Hz or 115 Vac / 50/60 Hz (single voltage, factory setting depending on country)

Power consumption

in stand by

< 0.5 VA

in idle

< 50 VA

Maximum

< 900 VA (w. 1 x 500 W @ 4 Ohm)

Connections

Inputs

1 x RCA In, unbalanced

1 x XLR In, balanced (XLR H) / unbalanced (XLR L)

Outputs

1 pair Loudspeaker Binding Posts

Other

2 x MBL SmartLink

Specifications

Rated Power

Mono 4 Ohm

500 W

Mono 8 Ohm

280 W

Mono 2 Ohm

> 500 W

Peak Output Voltage

85 Vp

Peak Output Current

36 Ap

Input Impedance (RCA / XLR L / XLR H)

10 kOhm/ 20 kOhm / 20 kOhm

Input Sensitivity (RCA / XLR L / XLR H)

100 mV / 200 mV / 100 mV for 1 W @ 4 Ohm

Rated Input Voltage (RCA / XLR L / XLR H)

2.20 V / 4.40 V / 2.20 V for 500 W @ 4 Ohm

Voltage gain (RCA / XLR L / XLR H)

20 (26 dB) / 10 (20 dB) / 20 (26 dB)

Absolute Polarity

In-Phase (RCA / XLR Pin 2)

Signal / Noise Ratio @ Rated Output

127 dB (A) @ 500 W / 4 Ohm

Signal / Noise Ratio @ 1 Watt

100 dB (A) @ 1 W / 4 Ohm

Equivalent Input Noise - RCA

126 dB (A) @ 2 V Input

Equivalent Input Noise - XLR

126 dB (A) @ 2 V Input

Frequency Response

< 10 Hz – 50 kHz

Distortion THD+N

Typ. 0.01 % @ 5 W from 20 Hz … 20 kHz

Damping Factor

> 100 (40 dB) @ 1 kHz / 4 Ohm