Những điểm nổi bật dòng âm thanh hi-end Preamplifier mbl C11:
Hi-fi enthusiasts, who will settle for nothing less than absolutely neutral music reproduction, will find their dreams fulfilled by this preamplifier. The sound pattern is three-dimensional and finely differentiated, the presentation is dynamic and self-contained - you will feel as if you are actually at a Live Event!
The appearance of the mbl 5011 is impressive due to its clear and practical streamlined design. There are only those controls which are technically absolutely necessary. The volume control is easily recognizable by its size and gold or chrome finish. Inputs and functions are selected using polished full-metal buttons.

The digital display on the front panel indicates the exact volume level and combines attractive design with easy fine-tuning. The electronic of this preamplifier are a "delicacy" which satisfies even the highest aspirations. At the rear of the mbl 5011 there are five inputs plus two additional optional inputs to configure the preamplifier to meet your personal requirements.

Besides balanced and CD-direct inputs, the selection of optional modules includes various top quality Phono inputs for MM and MC . For smooth integration of a Video Surround Processor into your High End Audio System, our preamplifier already has a processor/bypass input with fixed amplification fitted as standard.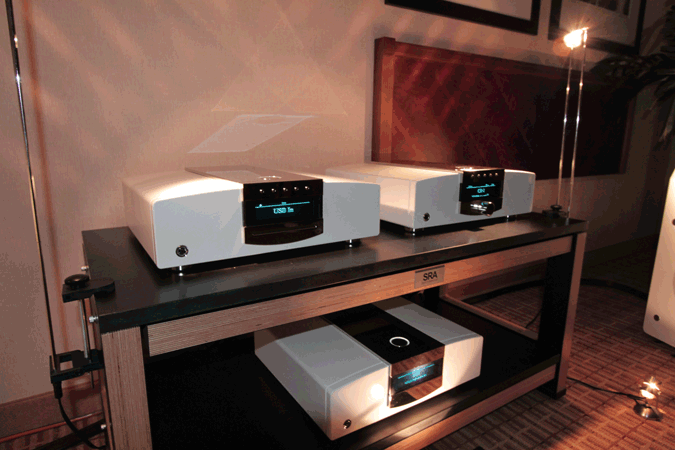 The outputs offer the sort of flexibility only known previously with our Reference preamplifier mbl 6010 D. The mbl 5011 has a total of 6 outputs. Besides a "fixed output" - uncontrolled output to connect e. g. recording equipment - this preamplifier has, as a "special treat", two output groups with separate volume and switch-on/off controls equipped with 3 balanced and 3 unbalanced (RCA) outputs.

This dream machine fulfils all your requirements and enables optimum utilization in all existing High End systems. The direct connection of the input and output connectors with the printed circuit boards provides extremely short signal paths for purest music reproduction. The input stages are fitted with fantastic 'BIAS' current compensation which enables pure DC coupling and you will be surprised by the control and musical beauty of this special electronic design.
>>Tham khảo: sản phẩm hi-end, sản phẩm hi-fi, dây dẫn cable

The results of our work: brilliant technology, top quality processing, exclusive appearance design and a fascinating, incomparably clear and pure sound.

We are proud to have created something extraordinary for you - the mbl 5011!
Thông số kỹ thuật của Pre-amplifiers Hi-end MBL C11:
General

Weight

15,5 kg / 34.2 lbs

Dimensions (without cables

W 45,0 cm / D 44,5 cm / H 14,5 cm

W 17.7 in / D 17.5 in / H 5.7 in

Dimensions with packaging

W 59,0 cm / D 54,0 cm / H 35,5 cm

W 23.2 in / D 21.3 in / H 21.9 in

Line Voltage

230 Vac / 50 Hz or 115 Vac / 50/60 Hz (single voltage, factory setting depending on country)

Power consumption

in stand by

< 0.5 VA

in idle

< 20 VA

Maximum

< 20 VA

Connections

Inputs

RCA unbalanced

2 x MBL CD1 / CD2

2 x Tuner AUX1 / AUX2

XLR balanced (unity gain)

1 x Processor By-Pass

1 x Symmetrical

Options

1 x optional 2nd Symmetrical In (XLR) or

1 x optional Phono Module (RCA)

Outputs

RCA unbalanced

2 x Variable Out

1 x Fixed Record Out

XLR balanced (double gain)

1 x Variable Out

Other

Ground Terminal

2 x MBL SmartLink

Specifications

Output Level / Maximum Output

Variable unbalanced RCA Outputs

0 ... 5 V @ 2 V Input, max 8 V (According to Volume Setting)

Variable balanced XLR Output

0 ... 10 V @ 2 V Input, max 16 V (According to Volume Setting)

Fixed Record Output

2 V @ 2 V Input, max. 8 V

Nominal / Maximum Input Level (All Inputs except Phono)

2 V / 8V

Absolute Polarity

In-Phase (RCA / XLR Pin2)

Frequency Range (All Inputs and Outputs except Phono)

DC - > 200 kHz