Luxman L-507u
Luxman is pleased to announce the Amplifiers Integrated Hi-End L-507uX this merger of transistor amplifier, the 4th version of the highly rated X series, with a high output power of 110W(8Ω) 220W(4Ω). The L-507uX integrated amplifier introduces Luxman electronically control attenuator LECUA, with an illuminated central oriented VU meter on its solid, symmetrical facia, also includes the Luxman exclusive super sound quality feedback circuit ODNF high S/N version 3.0,while keeping all the superb features of Luxman products made in Japan.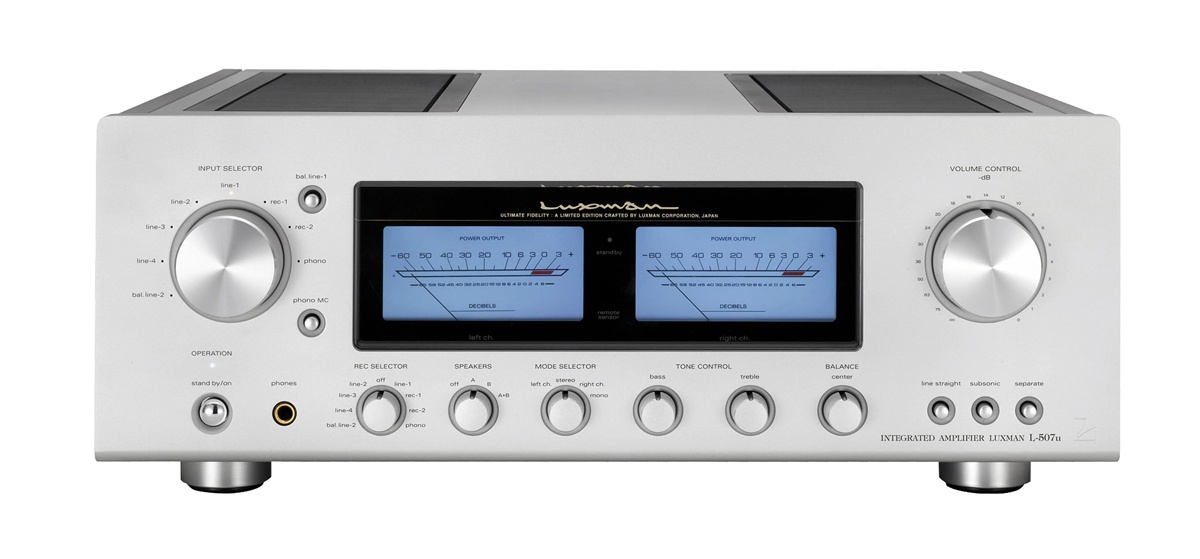 The first L-507-s introduced in 1996, since 16 years, has experienced three times the model after the change, L-507uX as Luxman's new model, with great sales by many users support, belonging to L-500 series full of the latest change model.
The L-507uX has a sweeter, more liquid mid-range and a more three dimensional soundstage is thrown. It is more refined, more detailed and even nicer to use than before.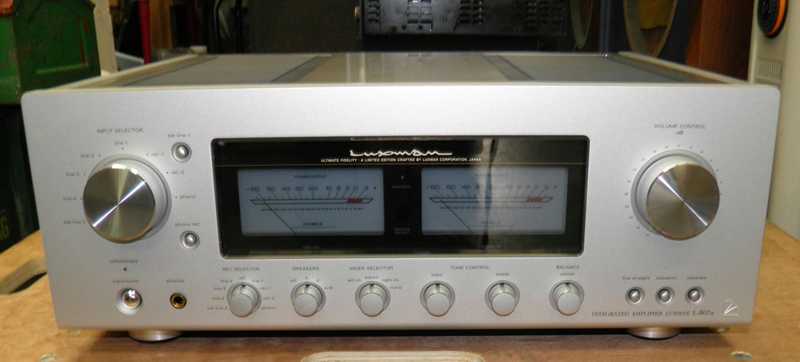 Features
The L-507uX has a discrete volume control based on the C-1000f preamplifier design – no moving parts, no tracking issues at low volume. Much more transparent sounding and will not sound the same at every level. This is the most important of all the upgrades and the most expensive to implement, as the individual resistors need to be measured by hand.
The L-507uX has MONO, SUBSONIC (Rumble) & LOUDNESS Filter switches on the remote control, Loudness is a wonderful feature for late night, quiet listening. It also has a few buttons that support the D-05/06/08 CD SACD players basic functions.
The L-507uX has a SEPARATE switch for splitting the preamp section from the amp section, for example the inclusion of a Home Theater Processor, where you use the amp in the L-507uX to drive the front L+R speakrs, but control the volume from the HT Processor.
The L-507uX has ODNF 3.0 performs three passes of the audio signal, checking for noise & distortion, while the ODNF 2.1 in the L-507U does two passes.
Thông số kỹ thuật dòng âm thanh hi-end Luxman L-507u
Item

Value

Continuous Outputs

110W+110W/8Ω, 210W+210W/4Ω

Input

Line x 4, phono x 1(MM/MC ) balance: line x 2,
recording input/output x 1, separate inputs x 1

Loudspeaker Output

A,B System (A+B output)

Amplifying Circuit Output

ODNF3.0

Input Sensitivity / Impedance

Phono (MM): 2.5mV / 47k , PHONO (MC):
0.3Mv / 100 , LINE: 180mV / 47kΩ
MAIN-IN: 1.05V/47KΩ

Harmonic Distortion

0.005% or less (1KHz/8Ω)
0.04% or less(20Hz ~ 20KHz/8Ω)

Frequency response

20Hz ~ 100KHz(+0, -3.0dB)

Signal-to-Noise

PHONO(MM): 91db, PHONO(MC): 75db, LINE: 105dB

Power Consumption

300W(rated output), 86W(no signal), 0.4W(idle)

Dimensions (W x H x D)

440 ×177 ×454 (mm)

Net Weight

23.9Kg