Những điển nổi bật của Loa Hi-Fi Mission M64i:
The Mission M64i speaker is part of the M6 range and offers the first compact floor standing loudspeakers with powerful extended bass, natural sounding midrange, and finely detailed treble, ideally suited for stereo reproduction or as front channels in an AV home theatre system. The Mission M64i floor standers are a 2 way design floor standing speaker suitable for amplifiers between 25 and 100 watts per channel The M64i is ideally suited for stereo reproduction or as front channels in an AV home theatre system, reproducing movie soundtracks with stunning clarity and impact when partnered with the MH6i centre channel, M6DSi surround speakers and M6AS subwoofer. Available in various finishes the Mission M64i's produce a deeper bass extension and provides impressive midrange performance.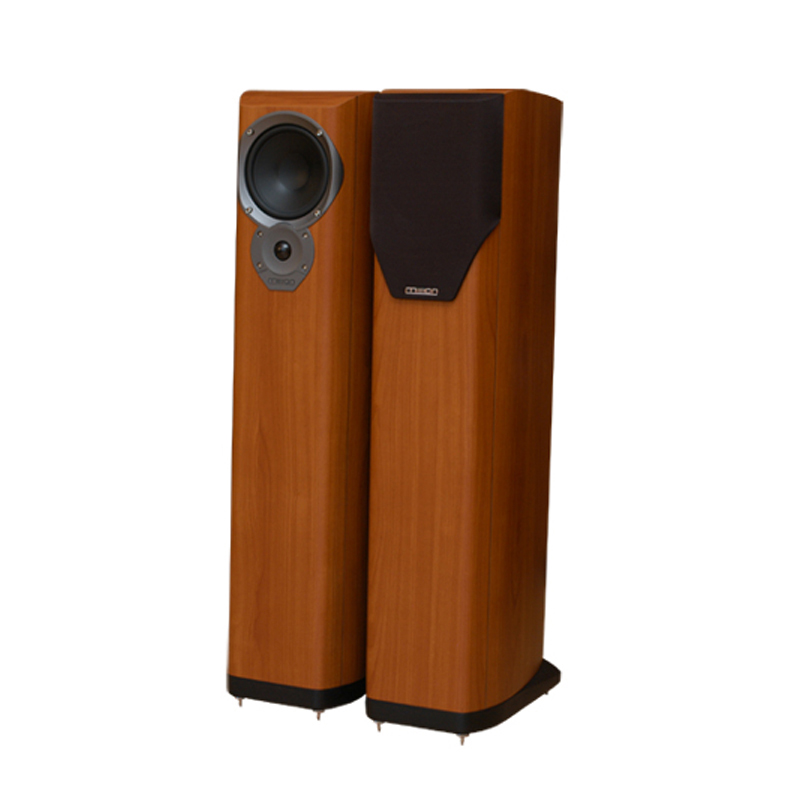 >>Xem thêm: Loa Jamo S805 HCS (White, Walnut), Loa Jamo D590, Loa Jamo S628
The Mission M64i provides a combination of high efficiency and wide bandwidth that give this speaker impressive power handling and an ease of drive that maximises dynamic performance from a wide range of amplifiers, ideally suited to the demands of modern music and home cinema.
An innovative new cabinet construction is used (TFCT) to construct a 38mm thick front baffle, coupled to a curved cabinet construction. This creates an inert structure with excellent acoustic properties - lowering cabinet response and reducing resonance.
The 'Paramid' bass driver has a 32mm voice coil mounted on a high temperature former suspended in a massive, shielded, magnet system. It has a fast, dynamic response - damped to produce a smooth and natural mid- range performance - yet capable of explosive bass delivery.
Mission has pioneered the use of inverted driver geometry. By placing the treble unit below the bass or mid-range driver, the length of path so the waves coincide at the listener's head-height is equalised. This principle is known as time-alignment.
Some manufacturers use electrical correction to achieve the same effect, but by using IDG, Mission loudspeakers achieves the same objective without disruption to the delicate mid-range frequencies. The result is a very natural and coherent presentation.
The viscous laminated high frequency dome treble unit offers exceptionally smooth high-frequency performance with a superior off-axis response. The ferro-fluid cooled voice-coil design is optimised to provide minimal compression at high volume levels with an ultra-fast transient response.
Crossover components are chosen for their specific audio qualities mounted on custom designed PCBs for minimum interaction and mounted using soft resin to dampen any mechanical interference.
>>>Tìm hiểu thêm: Vẻ đẹp cổ điển, lịch lãm với chất lượng hoàn hảo của loa Hifi Jamo C97
Thông số kỹ thuật của loa hi-fi Mission M64i:
| | |
| --- | --- |
| Frequency Response at 3dB | 52Hz to 20kHz |
| Sensitivity SPL/m/2.83V | 88dB |
| Amplifier Power Range | 25 to 100 watts |
| Dimensions (HxWxD) in mm | 893x205x330 |
| Finish | Black, Beech,Silver, Charry |
| Cross Over Frequency | 2.4kHz |
| Effective Volume | 16 litres |
| In room frequency bandwidth | -6dB at 60Hz to 28kHz |
| Enclosure Type | 2 way reflex loaded |
| Nominal Impedance | 8 ohm (minimum3.8 ohms) |
| Weight | - |